My obsession with re-imagining Nigerian cuisine often begins with street food.
The end? Dishes with de- and re-constructed ingredients, new techniques applied to familiar flavours and more.
Last August, I discovered cooked cassava shreds/ chips, also called Bobozi, Mbrakasi in the east and south of Nigeria.
This popular street snack is sold with chunks of fresh coconut. This version sold on the street consists of thin, long strips, created using a peculiar shredder/ grater.
When my sister shared some of hers with me, I was fascinated by the taste – bland to be honest, and the texture – somewhat soft yet chewy with a hint of something gelatinous – all consequence of the way it was cut into chunky 'chips' by my sister's mother-in-law, which I rather like.
While I found the combo interesting, I was desperate to see it in a Thai-esque salad, freshened with lime juice, chilies and herbs. And that's exactly what I did, adopting my 'salad-making guidelines'.
Because cassava is poisonous in its raw state, it is always soaked and par-cooked prior to any preparation.
I served it with smoked mackerel, flaked so the bones present no obstruction to eating.
And all it requires is essential a combination of flavours and textures, and a stunning salad is made :). The foundation is made up of cassava chips;
The elements – creamy, from freshly grated coconut with the brown skin at the back peeled off
The next step are to include the chopped things – herbs, chillies, spring onions
I like the freshness and citrus oils from lime zest, grated in
Followed by lime juice
And then one last check for seasoning – enough salt, more lime juice…
And then you finish up with sesame seeds and serve in a bowl, or a perfectly hacked coconut shell 🙂
[Tweet "Re-imagining Nigerian cuisine – taste this clean, fresh salad of 'tapioca' and coconut, brightened with herbs and chilies #newnigeriankitchen"]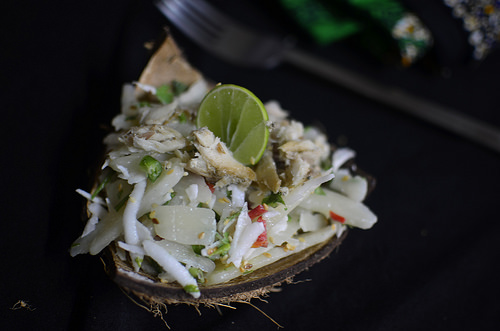 Cassava &Coconut Salad
2015-02-05 11:21:53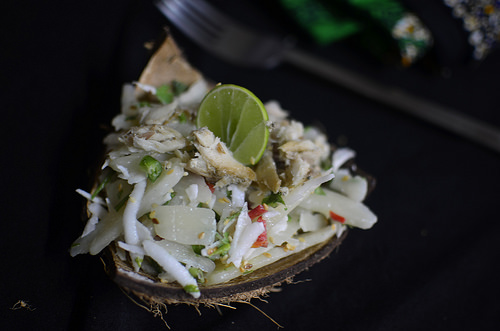 Serves 4
A clean, fresh salad re-imagined from popular Nigerian street food. Freshened with herbs, chilies, seeds and nuts. If you can't find cassava, you can substitute with unripe/ green papaya (pawpaw) or mango. They both work well.
Nutrition Facts
Amount Per Serving
* Percent Daily Values are based on a 2,000 calorie diet. Your Daily Values may be higher or lower depending on your calorie needs.
Ingredients
4 cups tapioca/ shredded cassava
2 cups coconut, fresh & grated
2 - 3 spring onions, chopped - green & white parts
1 - 2 red & green chilies, sliced/ chopped
Handful herbs - scent leaves, cilantro, mint; chopped
Zest & juice of 1 -2 limes
2 - 3 tablespoons toasted sesame seeds
Salt, to taste
To serve
Toasted, crushed peanuts
Flaked, smoked mackerel
Instructions
In a large bowl, combine all the salad ingredients, save for the toppings of peanut and mackerel
Toss well
Check for seasoning - salt, lime and adjust to taste
Serve, topped with peanuts and fish or other toppings
Enjoy
Notes
I love it at room temperature but it also works well cold
I think the sesame seeds are essential for the nuttiness they bring to the salad
Kitchen Butterfly https://www.kitchenbutterfly.com/