With my huge batch of cooked cassava chips, I wondered what else I could do.
I considered making Aipim, a traditional Brazilian cake – dense, moist and apparently delicious. We, afterall share histories of food and more with them. However, I wasn't sure my cassava was of the right texture, as it was in chunky chips as opposed to grated and so I decided to venture down a different path.
That of a quick broth, flavoured with coconut and herbs, in which the chips got poached and then finished with a squirt of lime juice and crushed, roasted groundnuts.
Yum.
The Verdicthing? Think of it as a tropical broth with spice, where the cassava adds some bite and the peanuts, crunch.
I'll be repeating this often.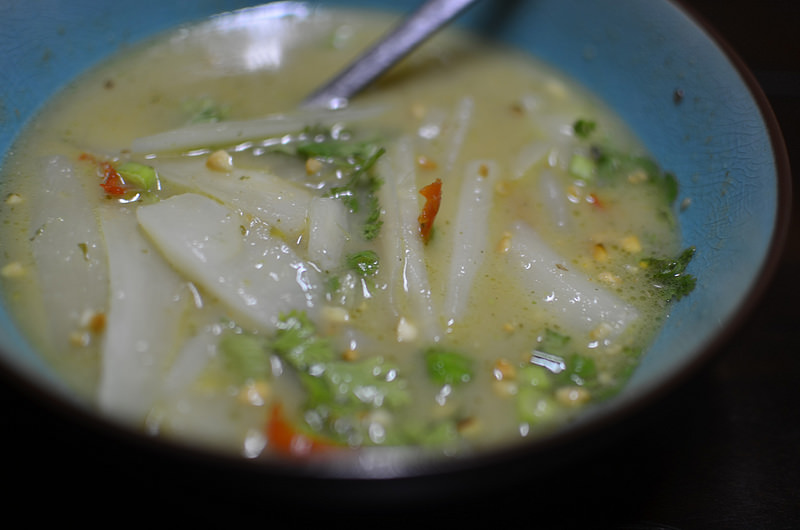 Tapioca & Coconut Broth
2015-02-05 14:43:05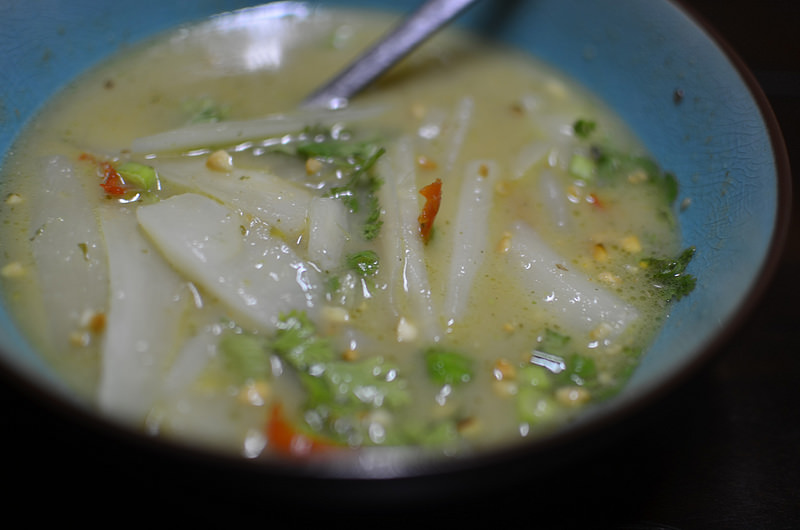 Serves 2
Tropical broth with warmth, spice and crunch
Nutrition Facts
Amount Per Serving
* Percent Daily Values are based on a 2,000 calorie diet. Your Daily Values may be higher or lower depending on your calorie needs.
Ingredients
1 small onion, chopped
1 teaspoon ginger & garlic paste
1 - 2 tablespoons coconut oil
1 cup coconut milk - homemade or store-bought
Chili pepper, to taste
Salt
Dash of fish sauce/ lime juice
Tapioca 'chips'
To serve
Scent or coriander leaves, chopped
Crushed, toasted peanuts
Lime slices/ wedges
Instructions
Sauté the aromatics - chopped onions , ginger, garlic, with a pinch of salt
To this, add some coconut milk - homemade or store-bought and a bit of water to thin, according to your taste
Season with salt, chili pepper and a dash of fish sauce/ lime juice
Let simmer for 10 - 15 minutes, then add tapioca
Allow cook for an additional 5 - 8 minutes, till the chips are warmed through
Remove from heat and serve with a sprinkling of scent, coriander, and/or mint leaves
Finish with roasted peanuts
Enjoy
Notes
Make the broth how you like. It would be great with prawns and fish, particularly catfish
Kitchen Butterfly https://www.kitchenbutterfly.com/
[wpurp-searchable-recipe]Re-imagining Nigerian Cuisine: Tapioca & Coconut Soup – – – [/wpurp-searchable-recipe]