She made it up, inspired by 'Sweet Kiwi'.
We got home from 'shopping' on Saturday and J, Daughter #1 made up a glass, showing off our recently acquired glassware. It turns out (via Google) that these glasses are actually parfait glasses. Who knew 🙂
Anyway, it's a simple 3 'ingredient' dessert or breakfast and in-between. All you need? Fruit, Yogurt, Granola/bars.
Here are a few suggestions, as per 'The Art of the Fruit Bowl'
Fruit
You could use a variety of fruit, or stick with one.
– tropical fruit mix. Think a combination of pineapple, pawpaw, bananas and passionfruit, maybe? How about a sprinkling of toasted coconut to finish?
– What do you think about a summery berry mix? The combination of sun-blushed strawberries and sweet blueberries?
– Could you make poached fruit parfaits? Why ever not? Stonefruit and pawpaw, even dried fruit are game. Me thinks.
Granola
– You could sub toasted oats for the granola bars
– or use muesli
– no one would quibble if you decided to go 'raw' with your oats.
– you could combine toasted seeds and nuts, desiccated coconut
Yogurt
So…my parfait isn't the traditional looking one with well defined layers. Thanks or no thanks to rather liquid yogurt I had.
For definition, thick – Greek-style yogurts are great.
But still, we enjoyed it.
– I like plain yogurt but you could certainly go for flavoured, to match the fruit combo
– I considered adding a dollop of creme fraiche to this but I behaved myself and went 'yogo'
– Vegan? How about layering with coconut cream, oatgurt or soygurt?
So here goes the 'recipe'. By the way, this is a wonderful treat to make with children at school. Like I did yesterday :).
The children helped. They laid out cups, cut the apples up, took red seedless grapes off stalks, crumbled the granola bars and assembled the parfaits.
Did I mention eat them too, and with delight? 🙂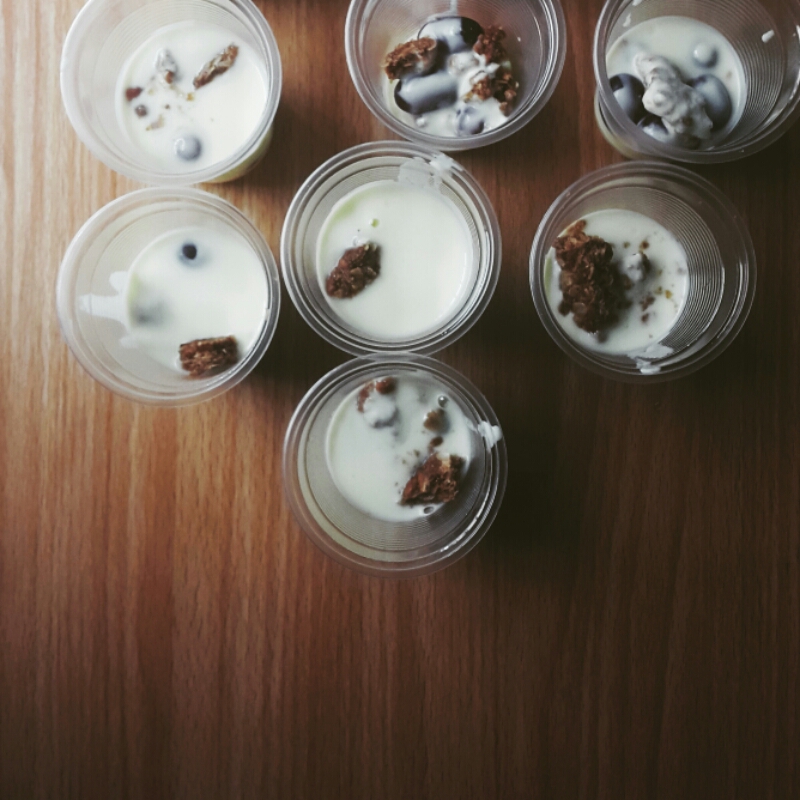 Thank you, J.
J's Yogurt & Granola Parfait
2015-02-25 13:51:03
A simple layered 'dessert' of fruit, granola and yogurt, layered.
Nutrition Facts
Amount Per Serving
* Percent Daily Values are based on a 2,000 calorie diet. Your Daily Values may be higher or lower depending on your calorie needs.
Ingredients
Mix of fruit
Granola bars, broken up
Yogurt
Instructions
Set out your glasses - the aim is to make a couple of layers so be mindful of how much you put of each element in each glass. Start with a teaspoon/ tablespoon.
I began with fruit when I made mine but J says's she starts with yogurt, so...
Put some yogurt at the bottom of the glass
Follow with granola, then fruit
Repeat
Top with a sprinkling of granola pieces
Eat immediately so the granola doesn't get 'soggy\
Kitchen Butterfly https://www.kitchenbutterfly.com/
[wpurp-searchable-recipe]J's Yogurt & Granola Parfait – – – [/wpurp-searchable-recipe]