Today, I have three stories & recipes to share on and with Agbalumo – Success with an awesome chutney, A'yt and outright 'Fail'. Here's to delicious cake first.
Long dreamt of and easily made was this cake. See that orange nugget – top right hand of the wedge of cake below? That's a piece of dried Agbalumo.
All the ingredients required are in season – Agbalumo, Carrots, Oranges.
Agbalumo here is used in two forms – pureed and dried (chunks).
Everything about this cake was great – the ease of making and baking, the texture and taste – carrots grated such that they didn't completely give way when baking. A bit chewy.
The Agbalumo was nice, but not very present. It appears that Agbalumo loses some of its flavour when cooked in small bits and combined in a mixture. The texture of the dried fruit was there – a touch chewy but not all of the flavour.
Large chunks worked in the Tarte Tatin – the integrity and flavour of the fruit were preserved. Here…they almost got lost. One thing that occurred to me was the fruit might not have been dry enough.
I particularly enjoyed tossing the grated carrot, orange zest and Agbalumo chunks into the flour.
What a brilliant idea – this way, they are evenly distributed in the batter.
This was a great recipe to try and much enjoyed. Some adjustments to make to get a stronger sense of Agbalumo but a worthy effort.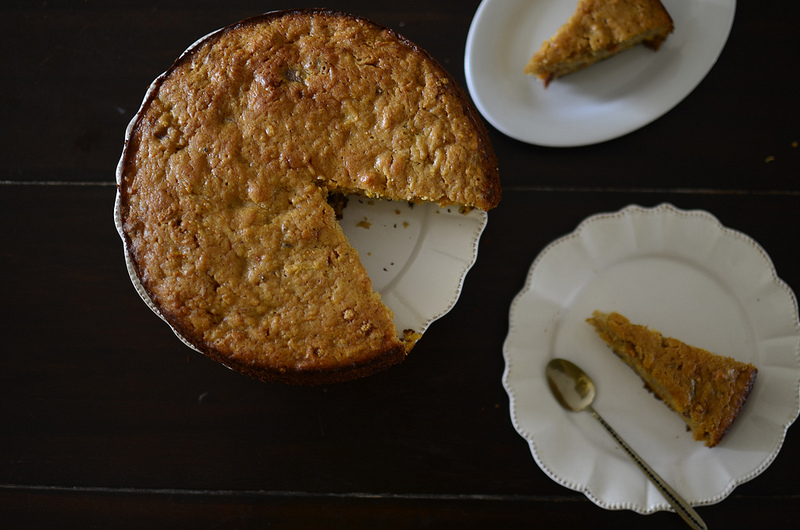 Agbalumo - Carrot Cake
2015-03-10 14:39:48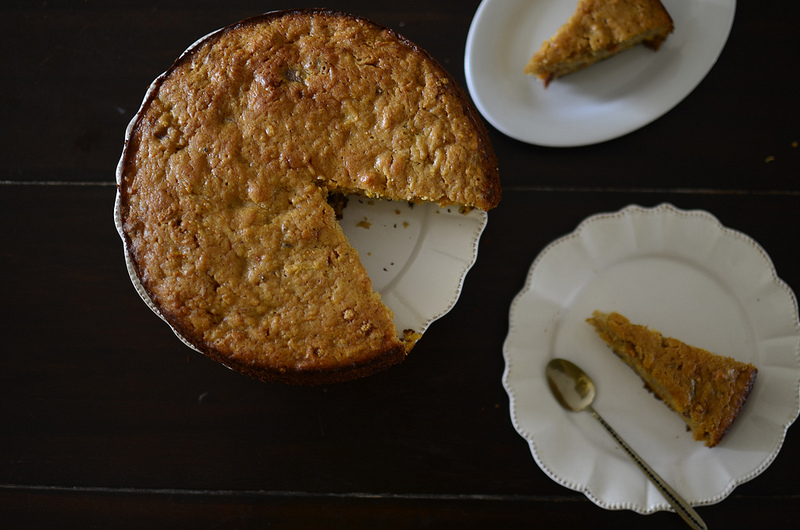 A delicious carrot cake featuring cardamom and nuggets of flavour from Agbalumo. My version adds Agbalumo - a fruit indigenous to Nigeria and skips the vanilla essence, simply because I forgot. I also make everything by hand - though the original calls for a mixer.
Nutrition Facts
Amount Per Serving
* Percent Daily Values are based on a 2,000 calorie diet. Your Daily Values may be higher or lower depending on your calorie needs.
Ingredients
3/4 cup sugar - white & brown
2 eggs
2 cups plain (white) flour
2 teaspoons baking powder
1/2 teaspoon crushed cardamom / powder
1/2 teaspoon cinnamon powder
1/2 teaspoon salt
2 cups carrots, shredded
1/2 cup Agbalumo chunks
Zest of 1 orange
1/2 cup vegetable oil
1/4 cup yogurt, plain
1/2 cup Agbalumo puree
Instructions
Preheat oven to 170 degrees C
Grease and flour a 9" cake pan
In a large bowl, whisk sugar and eggs until combined
In a separate bowl, combine the flour, baking powder, cardamom, cinnamon and salt. Add carrots, agbalumo chunks and orange zest - toss to coat
Combine oil, yogurt and agbalumo puree
You'll alternate the flour and yogurt-oil-puree mixture, beginning and ending with the flour. This gives the cake a good texture
Begin with flour mixture - add a third to the egg mixture. Stir. Add 1/2 the yogurt and oil. Repeat with another 1/3 of flour, followed by the remaining yogurt mixture. Stir and finish with the flour, stirring till just combined
Pour batter into the pan and bake until golden, about 45-50 minutes
The edges should pull away from the sides and a skewer set in the centre should come out clean
Allow cool and serve as you wish
Adapted from Food52.com
Kitchen Butterfly https://www.kitchenbutterfly.com/
So there you have it – Agbalumo Carrot Cake, best enjoyed by the wedge.