Today, I have three stories & recipes to share on and with Agbalumo – Success, A'yt with cake and outright 'Fail'. Here's to good things second 😉
This was a hit. Hit. Big hit.
I wondered if you could go savoury with Agbalumo. A lot of the experimentation I've done has been geared towards sweet. This worked beautifully, modelled on a Spiced Apple Sauce I made a few years ago.
All that's involved is to prep ingredients. And if you don't know how, now you do…with my handy guide to processing it.
Agbalumo being the key.
You essentially chop up some Agbalumo flesh and combine it with aromatics & spices.
I wanted to add a distinct Nigerian spiciness to the mix and I did that with Ehuru, Calabash Nutmeg also known as a spice on the list of(Niger-Delta) pepper soup ingredients. I love it's flavour in chutneys and sauces. This is no exception.
The liquid, off the bat tastes nice. I've used my Agbalumo vinegar from my very first foray into the world of do-more-than-eat Agbalumo.;
Seal. Let time work its magic… and behold – a chutney worth waiting for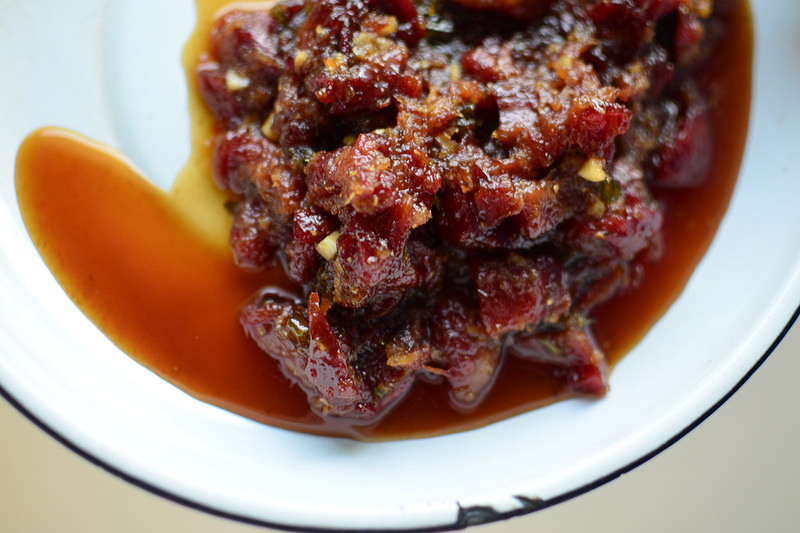 Agbalumo Chutney
2015-03-11 05:40:33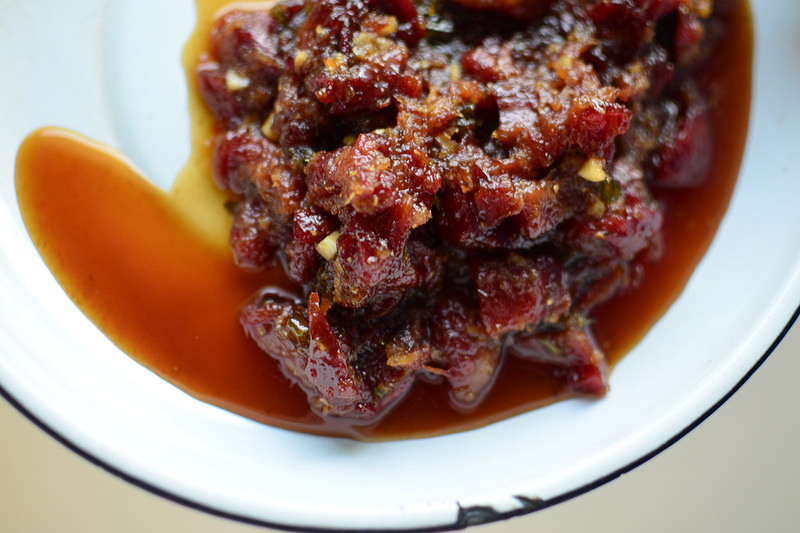 A sweet and sour chutney, reminiscent of Mango Chutney and Lime pickle. Sports a rich, beautiful colour and an explosion of flavours - a must-try
Nutrition Facts
Amount Per Serving
* Percent Daily Values are based on a 2,000 calorie diet. Your Daily Values may be higher or lower depending on your calorie needs.
Ingredients
200g Agbalumo flesh, chopped (about 4 - 5 agbalumos)
1/3 cup (Agbalumo vinegar)
100g white/ light brown granulated sugar
6 scent leaves, chopped
3 Ehuru/ Calabash Nutmeg, grated
2 teaspoons fresh ginger, grated
2 green chilies, chopped
1 teaspoon fresh garlic, minced
Instructions
Combine all the ingredients in a glass jar
Stir well and refrigerate for at least 4 hours - up to 24
Once macerated, put mixture in a small pot and cook on medium - low heat for 8 - 10 minutes, stirring often
Remove from heat and allow to cool
Refrigerate
Serve as accompaniment to meats in salads, sandwiches and mains
Kitchen Butterfly https://www.kitchenbutterfly.com/
This is a beautiful chutney that pairs well with meat and herbs. We had some with chicken – sharp, sweet, spicy, juicy, syrupy and overall delicious.
Woo hoo, so excited. Agbalumo Chutney for the win. We're making progress.
Peace xxx[wpurp-searchable-recipe]Success: Savoury Agbalumo Chutney – – – [/wpurp-searchable-recipe]