If you're anything like me, you've been dreaming about the weekend since Wednesday – how long you'll lay in bed on Saturday morning (lies and deceit for after rising before dawn on the five days before, your body knows who is king, and just in case you still don't get it baby, that heavy thing upon your head is no crown – its your worry about sleeping in), what you'll buy under the bridge on your way home from work on Friday (but two hours later, through Obalende and literal go-slow, happy are you to fall into the arms of an open door, an open door – home), what you'll cook.
Now its Saturday, you arose at 7.00. Prayed, read (on Twitter), laughed a lot, have an egg wash in your hair which you must rinse out with cold water lest you wear your breakfast on your head (and yes, my 8 year old son and I had this convo 'Mama, did you put the egg in your hair?', 'Yes', 'You shouldn't have, it will fry in your hair'. *smile*)
It's Saturday and you might want to complete the task of shopping you planned earlier on. You might want to prepare not for Saturday – you're going out, but for Sunday. You might want to cook some rice, rice is perfect for Sundays.
Growing up you might have had Jollof every Sunday and so now, you want to switch it up. Switch it up in a way that is quick and easy and delicious too. Right?
KB to the rescue with five awesome Fried rice recipes – from Nigerian-style to Chinese, Indonesian and Thai, recipes that will make you a star, this Sunday.
Timi's Best Fried Rice
The best Nigerian-style – cooked in a meat stock, as opposed to just s'tirfried' – was made by my friend, Timi. I've had several versions – rice grains too fat, too soft, too yellow, not tasty – but Timi's is head and shoulders above the rest.
Nigerian fried rice at its finest has diced cooked liver, or shrimp, or both. This is what delivers the plate.
Timi cooks hers with basmati; shrimps, vegetables and a small amount of coconut milk, which is the winner. The coconut milk adds a hint of something special without being overwhelming – exactly what you need, want, dream.
Recipe – Best ever Timi's Fried Rice
Authentic Chinese Fried Rice
There are a few – not many- key steps to making the perfect bowl of Chinese fried rice. Cold rice, vegetables cut up fine so they cook quickly, a hot pan and voila, you're there.
I'm a fan of Thai Jasmine rice but basmati and & long-grain work well. I always douse my vegetables in light soy sauce before I add the rice, and then I stir-fry the rice not only till its hot, but till bits start to crisp up, then I know we're home.
Jean George's Ginger Fried Rice
This rice is everything. It begins with ginger and garlic, chopped and fried till golden. These bring a wholeeeeeeeeee new dimension to your bowl of fried rice. Add – with beautiful bites of crisp leeks and shallots, topped with a runny yolked egg, you're done. Your. Work. Is. Finished. Jean George has created a genius recipe with only a few essentials – home run, babe, home run.
Recipe – Jean George's Ginger Fried Rice, courtesy food52.com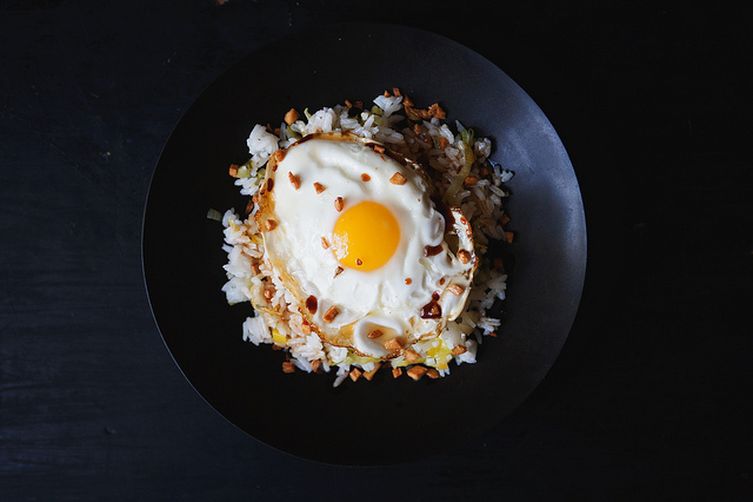 Nasi Goreng
Living in the Netherlands with its rich Indonesian culture, and having an Indonesian nanny brought Nasi Goreng to our table very often. Along with satays and gado gado, a salad of boiled eggs, snake beans and more.
A simple, oft-served-for-breakfast-dish, it is stir-fried with ketchap manis (think of it as a spiced ketchup), shrimp paste and a touch of palm sugar (yes, the Indonesians have a serious sweet tooth). The end result? A beautiful, rich flavoured dish that's oh so delicious.
Recipe – Nasi Goreng by Saveur
Thai Fried Rice
A delightful version of Thai Jasmine rice, it is seasoned with fish sauce, light soy sauce, white pepper and lime juice.
Recipe, by Rachel Cooks Thai, and a few other variations on the theme.
So there, go ahead, choose 1 or 3, make a few pots or pans and thank me later. And if per chance you have one that should be added to the list, let me know.
Enjoy and have a great weekned xxx.[wpurp-searchable-recipe]5 Fried Rice Recipes For Sunday Lunch – – – [/wpurp-searchable-recipe]