The idea that we are as much the same as we are different is what slays me about food, what binds my heart to the cause of eating, feasting, of discovery. That though we are set apart by seas and oceans, by mountains and plains, valleys, plateaus, essentially we are the same – we eat the same sorts of food, we crave the same sorts of flavours and we have similar foods & fruit.
So, the map shows places where star apples and relatives are found. Not surprising, tropical, equatorial regions are home to most of them, from West Africa to South East Asia and Central America .
So that the Thais use fish sauce where we use dried crayfish and the Chinese, shrimp paste. That in the West, lemon and citrus are served with fish to 'cut' the rich, soft mouth feel where we, here in Nigeria use chilies.
That bitter in dandelion greens, celebrated in parts of the US are similar to our bitter leaves, in Onugbo soup, in Banga and more.
When my friend Notey tagged me on a photo on Instagram, I went a bit crazy. It was one of Cainito – Bluberry pie fruit…but it looked exactly like Agbalumo. 'Joneve' shares that she saw this in Costa Rica and they were deep-purple, almost black flesh, the size of tennis balls! Wow.
When I read the notes '…', I knew I was home.
The Star Apple covers a range of seasonal fruits that ripen from late December to April, May. The fruits are characterised by thin-skins encasing soft but firm fleshed pulp. The seeds are arranged in a start pattern and a section through the centre (where possible) shows this glorious characteristic which lends it is name. The hard, brown shiny seeds are covered by sweet gelatinous sheaths characterized by seeds. They fruits are latex rich – sometimes leaving stick films on the lips and hands.
Some botanical information:
Family Sapotaceae
Subfamily Chrysophylloideae
Genus: Chrysophyllum
Species: Numerous including Albidum (Agbalumo, white start apple), cainito. Relatives include mamey sapote , green sapote, Sapodilla
Provenance: Greater Antilles and the West Indies. It has spread to the lowlands of Central America and is now is grown throughout the tropics, including Southeast Asia.
Cultivation & ripening: Often uncultivated. Tree-ripened.
Scents & Flavours: The pulp of the Star Apple is aromatic and has a tropical sweet flavor with nuances of apple, lychee and persimmon
Is the purple fruit, Cainoto found in Nigeria?
Yes. Yes. Yes. By two indications. The first, a twitter conversation when I shared the photo. Osayi says he first tasted the fruit in 2008 '…during my NYSC in Ebonyi state… Nguzu Town. Afikpo south LGA', in the East of Nigeria. He shared that 'the family that owns the house where I stayed had two if the trees in their compound. They said a family member bought the seeds home from abroad, they planted it and it grew. I was really surprised. They also shared the seeds with others in the community.'
He shared that the fruit was larger than homegrown Agbalumo and that the unripe fruit was green, turning purple when ripe.
Tasted these before, right here in naija and they taste really good. https://t.co/yfYAYfDYnV

— Osayi George (@ossylishuz) March 3, 2016
The second? An article 'Extraction and Utilization of Pectin from Purple Star-Apple (Chrysophyllum cainito) and African Star-Apple (Chrysophyllum delevoyi) in Jam Production published by in the 'Austin Journal of Nutrition and Food Sciences'.
'Matured, semi–ripe purple star apples, (Chrysophyllum cainito) used for this research work were obtained from St. Thomas Acquinas Catholic Church, FUTO [Federal University of Technology, Owerri].'
'Purple star apple (Chrysophyllum cainito), commonly called "Udara beke" in Anambra State, "Udara Oyigbo in Imo state, "agbulag" in the North, is one of the minor fruits of the family Sapotaceae meaning star apple or gold leaf tree [1]. It has acquired a moderate assortment of regional names. In Spain, it is usually called "caimitto" or "estruella"; in France, generally, "cainute" or "caimtier". In Colombia, it is called "caimo" or "caimo morado" (purple variety). In Argentina, "aguay" or "olivoa" [1].'
Others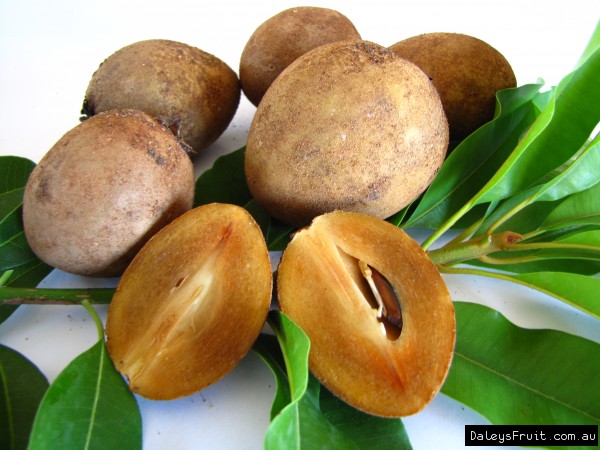 Sapote
Mamey Sapote
Black Sapote[wpurp-searchable-recipe]Around The World in 12 Star Apples: From Agbalumo to Cainito, Lagos to Jamaica – – – [/wpurp-searchable-recipe]