I've been away in Edinburgh, where love has taken me by surprise.
For love has a way of doing that, doesn't it? Be it love for a man, your child and even a city.
All my life, I've dreamt of loving only a handful of cities –Tokyo in the spring when the cherry blossoms perfume the air and carpet the ground in white and pink and Paris all year round, from rue to cafe. Surely my destiny is French.
So I wasn't prepared to fall head over hills in love with Edinburgh.
But head over feet and toes I was, and still am….and for the first time in my adult years, I'm unsure about Paris being numero uno.
It might be because Edinburgh was the first city I ever visited.
It might be because Edinburgh with its hills and castles was the first place I began my romance with food at Wimpy's fast food restaurant.
It was 1985 when we flew British Caledonia Airways – my dad, my older sister and I. I can still remember my excitement at the kid's pack on the flight – white pencil cases with sailor blue and tan inscriptions, full of coloured pencils and God knows what else.
We'd come to spend time with family, to visit my cousin and her husband who lived here.
Its 2013 and I'm back again. This time my sister's getting married.
Back to being the little girl in knee highs and a Scottish skirt.
The memories come in waves. Princes street, upon which the castle sits on a hill. The clock in the gardens, where I spot springs hand of hue, in bright red tulips. The knowledge that my love for food, started 28 years ago when I ate the 'first meal I ever enjoyed' at Wimpy's fast food restaurant.
Before this time, I was a food hater.
And though I've always held Edinburgh dear, the week I spent there  makes my love wax stronger – the city lends itself to love. The best charity shops I've ever been in,…I got some beautiful silverware, cake platters and lots more.
It has the most gorgeous architecture I've seen outside of Paris, more history and culture than I can absorb in a couple of visits, and most of all, stunning scenery of green and sea and hill.
It's love that brought me here too, for a few weekends past, my sister got 'hitched' to a Scotsman, so yes…an arm of this family is kilt-loving, Irn-Bru drinking and very welcome to our fold.
But she's not the only one who's caught the love bug – I have too.
With the Instagram on my iPhone. This filter-photo happy app is keeping grown men and women busy….and in love. The photos remind me of polaroids, bejewelled. Makes me feel nostalgic. And the wonderful thing? Even 'poor' photos get a new lease on life.
I love the  colourful doors of Edinburgh;

The sloping streets, stone walls and gorgeous architecture;

Cheesy shop windows;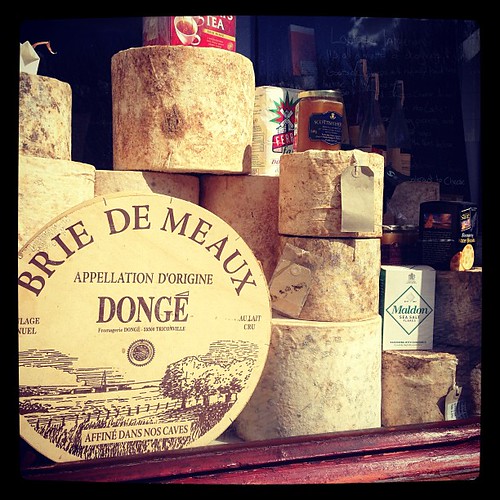 And Sticky Toffee Pudding.
This version was as light as a sponge served with whiskey ice-cream in a brandy snap basket and drizzled with toffee sauce. A stunning revelation in Scottish puds.
It was the Haggis which surprised me – I totally loved it. The combination of liver, pinhead oats and spices had me taken. I even brought some back.
I enjoyed my fair share of rhubarb, I even brought some back and have been enjoying all the famous English desserts where 'celery with pink lipstick' stars.
And a Rhubarb Crumble to live for.
Tea and citrus poached rhubarb, topped with a five-spice and cardamom crumb. Equally delicious with vanilla ice cream, warm from the oven…and with Greek yogurt, the morning after.
I thought the Dutch had a sweet tooth with Stroopwaffels, but that hardly compares with the national Scottish sweet, known as 'Tablet'. Think Fudge, but sweeter and crumblier…..and eaten straight – no black coffee, no straight tea, just sugar, bite after bite.
I didn't try Irn bru, but I had sweets, bearing its name.
 Reminded me a bit of Lucozade, the energy-giving drink.
It was a great trip, a wonderful if not 'restful' holiday and an absolutely gorgeous wedding.
I leave you with one of my great charity shop finds. Isn't it wonderful :-)?
[wpurp-searchable-recipe]Edinburgh, by Instagram – – – [/wpurp-searchable-recipe]