Desserts & Presentation – two ways in which we should progress Nigerian cuisine :).
This week, I will focus on Nigerian desserts. And yes, I dare say we have a class of them, if budding. Truth is, dessert for a long time was fruit salad (with milk), ice cream and cake.
Enter The New Nigerian Kitchen. And the knowledge that there is so much more the Nigerian kitchen has to offer, both with the old, but also the new.
I find Instagram a great place for inspiration. And when I saw this on @beautifulcuisine's page, I knew I had to recreate it, Nigerian style.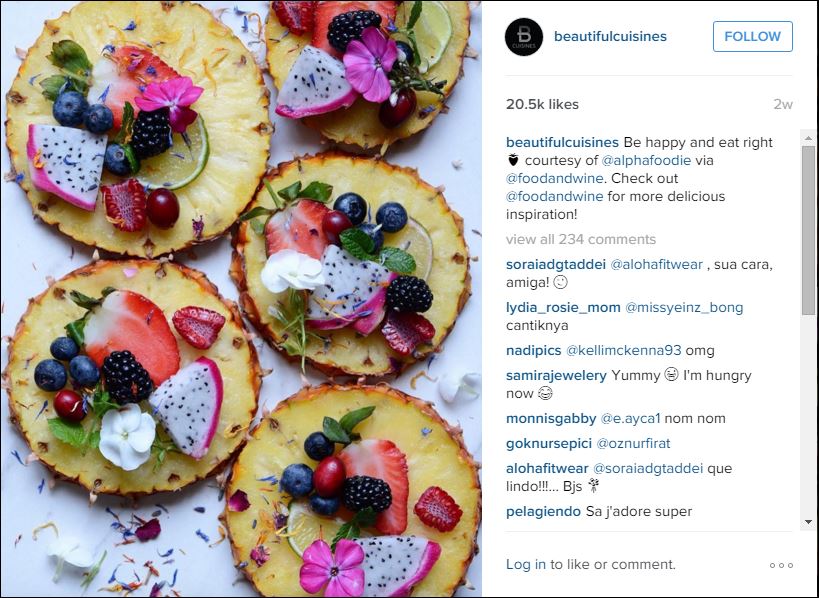 My platter features fruitsin season – a key marker of not just The New Nigerian Kitchen but Nigerian cuisine in general. Nigerians, without much thought eat fresh, in season and barely processed.
What I find stunning is the colours – I mean, this is sooooooooooo #eattherainbow.
I began with bases of pawpaw/ papaya & pineapple. I found these cute pawpaw in the market that were perfect.
I prepped a mix of other fruit – mangoes, berries, pitanga cherries, mulberries, soursop, kiwi fruit, agbalumo, lime mint leaves and gorgeous waterleaf flowers etc
I cut some fruit in quarters, some in semi circles, some stayed whole. My purpose was to show forth the vibrant colours of the fruit.
Then I began plating. To make it easier, I cut the core out of the pineapple – in future renditions, I might take the skin off the pineapple and pawpaw but I didn't here. They looked nice too.
I devoured mine with some creamy, unsweetened yogurt.
Understandably, some bits were fiddly to eat with cutlery but I shall go back to le drawing board.
What I like about this though is
it's easy to accomplish by even young cooks
it looks stunning too
What do you think?
[wpurp-searchable-recipe]Nigerian Fruit Salad 2.0 | The New Nigerian Kitchen – – – [/wpurp-searchable-recipe]