Of the front seat of New York Taxis and the most delicious Cream Puffs.
It's not the first time we've gone on holiday with full intentions of tracking down a read about, heard about or watched about restaurant or place. Ref. the Churro adventures in Barcelona. Another sort of Choux pastry. And Momofuku. This time – our last visit to New York, we had Beard Papas lined up. My children had watched 'Fast Food Gone Global' on Food Network and practically dragged me there in a taxi on our last day.
With our last twenty dollars, we 'feasted' as much as we could – one item each = just enough to enjoy and savour without overdosing.
Known as the bakery of the "World's Best Cream Puffs," Beard Papa's has been a household name since 1999 when we opened the first Beard Papa's store in Osaka, Japan pumping out this unique cream puff to happy people; Beard Papa's
If you've ever had a choux puff, you'd know this is one of the finest ones. Ever. Everything you need to know about the awesome puffs is framed below.
You decide on what you want…
…And then you go ahead and say how you'd like it stuffed.
Such an awesome lineup…
We got a box to go. One daughter had a plain cream puff, the other had a chocolate glazed one.
The son opted for a Fondant, also known as the lava cake. A shell of chocolate with a molten centre, like lava.I guess one could also call it volcano cake #justsaying.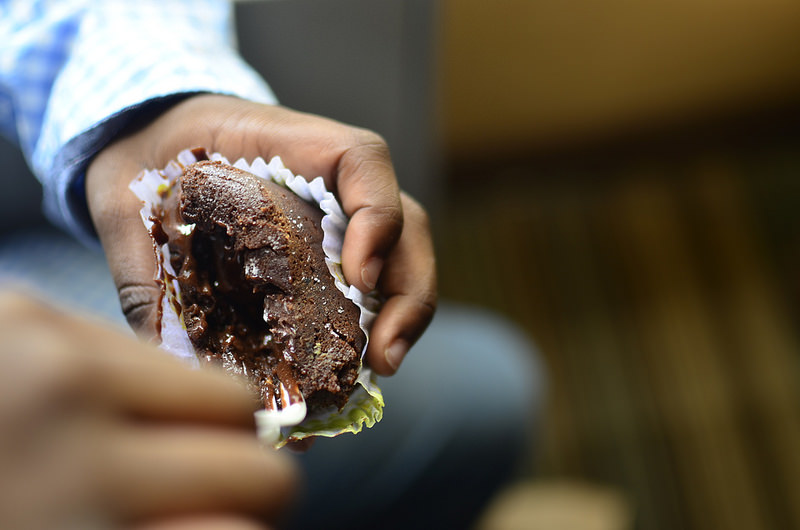 I went for a Matcha cream puff that was heavenly. It sported a Match glaze drizzled with chocolate. The textures…oh my Lord.
You got a two-layered shell and the coolest – not coldest cream that made eating it such a 'pleasure' experience. Note I didn't say pleasurable…that is kind of a stuffy word, pleasurable is. It was pleasure, pure pleasure. Long, slow, drawn out, to be savoured, enjoyed, basked in, reveled in, enjoyed.
So yes, this was the best cream puff I've ever tasted. Ever.
And yes, on front seats in New York Taxis…So this time, I travelled with the children and all three of them would sit behind while I sat in front. But the front seats of New York taxis – the passenger side anyway isn't meant for humans. Did you know that? It is meant for bags and lunches, of salads and takeaways, for coffee cups and newspapers – The New York Times and others. So that every single time we got a taxi, which was very many times, we had to wait white the front seat was hurriedly cleared of bags and stuff…so much so that I sometimes felt like I'd invaded a place, a zone, a dining table, sitting and desecrating a place. But yeah, that's what was and what I learned about New York taxis. So random, :).
Have a cream puff on me. I'll hit you up with a tutorial soon.
Stay well.[wpurp-searchable-recipe]Beard Papa's Cream Puffs – To Live For – – – [/wpurp-searchable-recipe]