I love heroes and heroines, but I treasure mentors, coaches who unlock various doors on my personal journey of discovery and awareness, who, borne out of a deep passion to 'make a difference' go way beyond the call of duty, and sometimes reason.
These men and women are unique. They are the ones who answer your seemingly silly questions about things that may be common knowledge, who encourage you with a smile, a word, an email. Who show you how to reach for your star, without plucking it from the heavens for you. The ones who teach you how to fish, thus enriching your life forever.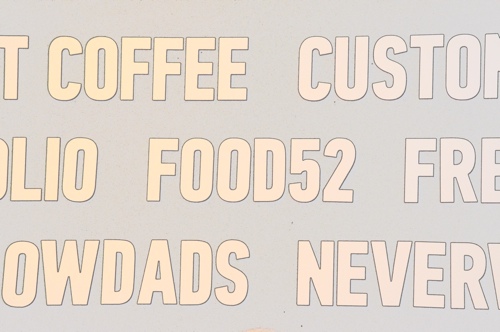 We are products of all we've met and experienced and I am super thrilled that somehow food52 is in my culinary DNA.
Months ago, when planning my NYC trip, Amanda Hesser, yes, 'The Amanda Hesser' and I exchanged messages – my request to visit the food52 offices was met with an open invitation. I was over the moon. Though I was a bit worried about asking to visit, worried about what I would say when I got to the office, and even why I wanted to go there in the first place, I remembered some advice a Dutch mentor gave me a couple of years ago: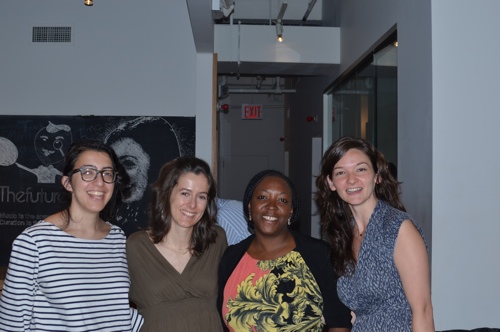 L to R, Nozlee (assistant editor), Amanda(co-founder), Myself and Kristen(senior editor)

Ask for what you want, even if you are afraid. Before you ask you already have a NO, but when you ask, you have a 50% chance of changing that banked no to a YES!
I could go on and on about Amanda's fame, from playing herself in 'Julie & Julia', the movie; to being the author of a number of great cookbooks, most recently, the gigantic tome 'The Essential New York Times cookbook', to being co-founder of food52 with Merrill Stubbs. But would it serve any good?
One day later, after meeting not only Amanda, but almost the entire food52 team, save for Merrill who wasn't feeling too well, after spending over an hour chatting and listening to them work through various parts of their regular schedule, I am thankful I asked, and received.
When I arrived, Amanda came out to meet me and we exchanged hugs. I was so excited, I had to fan myself with all ten fingers in that familiar, nervous girl manner…..but she was fine with it. As far as I was concerned, this was the equivalent of meeting food royalty. She introduced me to the team and it was wonderful to see the faces and hear the voices behind the articles I read on a daily basis. In fact, my colleagues call me 'food52' because I begin my day at work with a quick review of food52 online and then at lunch time, I delve in to read and catch up on more.
To be called food52 is a huge honour :-)! And to be featured on Feed52, even more so!
I left the office with a signed food52 cookbook from Amanda and Merrill, and recommendations to browse a few bookshops down the street from their office.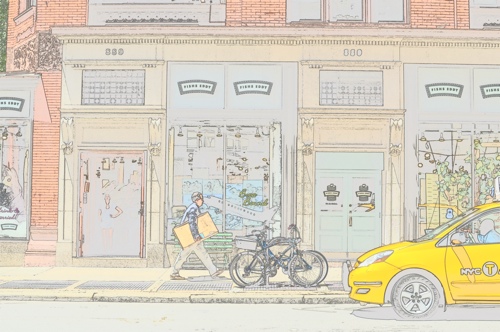 I loved Fishs Eddy. Strange name but wonderful, colourful kitchenware. I found myself glued to a spot around some silverware on sale for 99c each, ok…call it a dollar. So I dug in and came up with some nice treasures.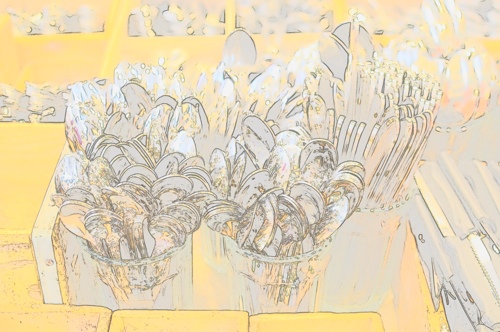 I was fascinated about marbles in a kitchen store. Ok, I know weird product combinations are common in many stores….but still I inquired from a shop assistant, who said they were made by an Oklahoma glass company, who also supplied them glass bakeware and cake stands.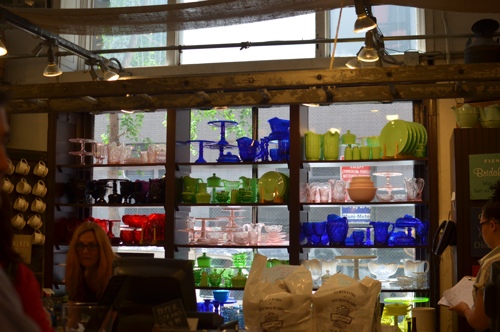 The leftover glass from the manufacturing of the plates and stands were made into marbles. Talk about sustainability.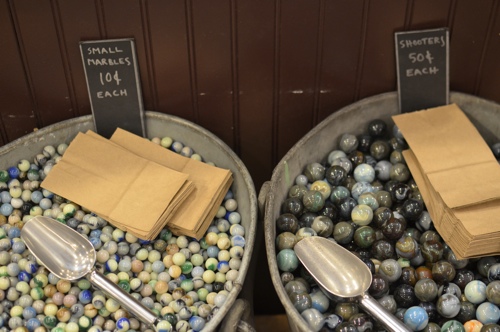 There were loads of great place mats and napkins and with this new colour sketch feature of my Nikon D5100, was able to capture it all in colour.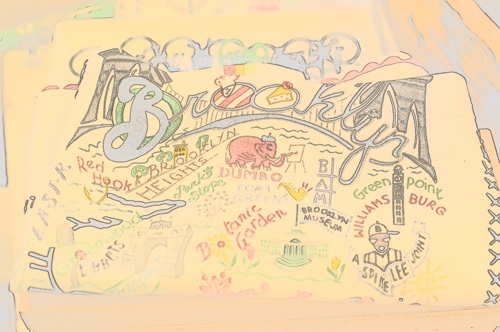 I loved this book cover.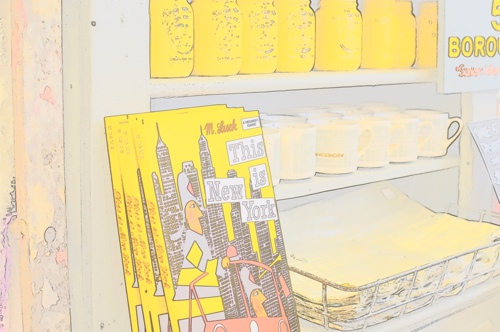 I loveeeee this shop! From there, I popped into ABC, which is full of higher priced kitchenware on it's ground floor, than Fishs Eddy. Amanda had warned me though that it was a nice-to-look-at, not-necessarily-to-buy store, and I enjoyed the looking but didn't leave with a single purchase….for obvious reasons:-)!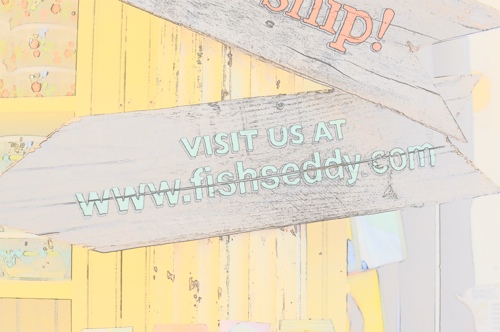 If you get a chance to head to Fishs Eddy, stop by, it is a wonderful place to wander about….and for all you (New Yorkers) who have food52 and food52ers on your doorstep, take the plunge, get to know them and expand your culinary horizons. Sign up to learn more about food and techniques and make great new friends, to build a community of caring, committed goodies who change the face of the world with a few good recipes!
As Amanda & Merrill say in their manifesto:
We think cooking is really important — especially now. Over the past decade, many studies and books have shown that children from families who eat together do better in school, that eating "whole" foods is healthier, that eating sustainably will save the environment. But no one has pointed out that the only way to achieve all this in a comprehensive, lasting way is for people to cook.

Because:
If you cook, your family will eat dinner together.
If you cook, you will naturally have a more sustainable household.
If you cook, you'll set a lifelong example for your children.
If you cook, you'll understand what goes into food and will eat more healthily.
If you cook, you'll make your home an important place in your life.
If you cook, you'll make others happy.
If you cook, people will remember you.
Talk soon….(I say, writing from the departure lounge waiting to board my flight home!)
Lots of love XXXXX[wpurp-searchable-recipe]A Visit to Food52 Offices, New York – – – [/wpurp-searchable-recipe]