This jam is the product of life-art-inspiration-art-life-living. I love soursops and have recently begun to experiment – creams, desserts, cocktails – no sphere is safe.
I was thrilled when Chikodili Emelumadu, of Igbophilia (How to love Igbo things or what you will) shared that I would be 'staring' in a short story she'd written. Please read it!
Anti-mimesis is a philosophical position that holds the direct opposite of Aristotelian mimesis. Its most notable proponent is Oscar Wilde, who opined in his 1889 essay The Decay of Lying that, "Life imitates Art far more than Art imitates Life". In the essay, written as a Platonic dialogue, Wilde holds that anti-mimesis "results not merely from Life's imitative instinct, but from the fact that the self-conscious aim of Life is to find expression, and that Art offers it certain beautiful forms through which it may realise that energy; Source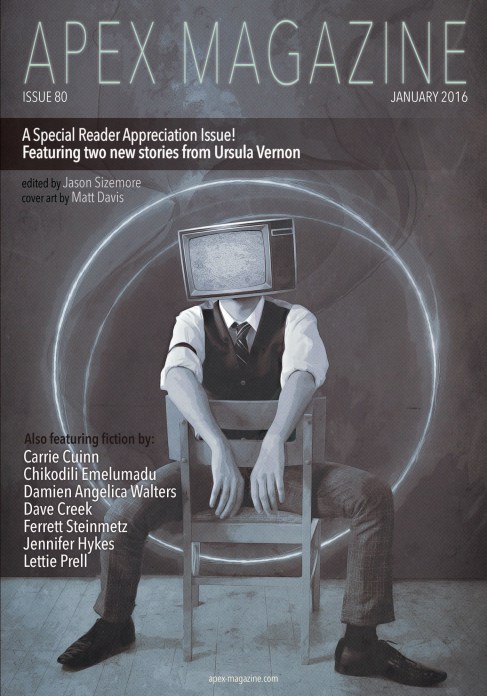 Why? How? What? Well, here's what she has to say about the inspiration for her story, a sci-fi piece set in a dying, abandoned earth where some senses – taste and smell are rare commodities but can be purchased for a price.
CE: Well, it was the end of my workday and I was browsing 'the internets' when I decided to check out this blog by a food blogger of the same name, 'Kitchen Butterfly.' This was my second time on the website and I was ornery from writing so slowly all day and being frequently interrupted, I just wanted to 'eat' with my eyes, something that I did not create.

There on the front page was a photo of what she called 'custard apples' but which I knew as 'Sweetsops' from reading another Jamaican blogpost a few years ago. The fruits reminded me of their cousins, 'Sour sops' which we have in Nigeria and which I used to devour with relish. I started to salivate and eureka! The story slammed its way into my taste buds. I think it took about an hour and a half or two hours to write. It was just there.
There are many things I love about the piece, beyond being some of the inspiration and featuring in it.
I love the fact that this is science fiction – a genre which I do not think of as 'Nigerian'. Here, the use of Nigerian names does it for me.
In the story, my Kitchen Butterfly Artificial Intelligence (AI) persona has manicured nails. Sigh – as far removed from current situations but enough to give me hope…there might be redemption yet.
I'm stunned by CE's mention of boubous. I'm wondering how she knew, knows that I could live in a boubou all the days of my life. How I find them comforting, like tents. How the shield and hide and warm.
What I love the most is the idea of a soursop jam. I've never considered cooking soursops, its never occurred to me that I could make a condiment from it and that indeed soursop jams do exist. In 'Soursop', an Kitchen Butterfly Artificial intelligence
'This afternoon they replayed the episode where the Kitchen Butterfly AI makes a condiment, jam, from the soursops. The AI, which replaced the original hostess more than a hundred years ago, glided around an immaculate kitchen, peeling apart the spiky green fruit, digging into the white pulp to squeeze out seeds, while juice leaked down its elbows. It giggled the same way all these cooking show hosts seemed to; high-pitched, breathy. If that was how females sounded hundreds of years ago, I'm glad I wasn't born in that era.'
And so it is that I get some ripe soursops, and carefully take them apart so no toxic seed is included in my mix.
I begin by making my soursop cream. It's really easy, I combine equal amounts of pulp and water to give me a cream. The end result is 'textured' – I shy from lumpy because that's not what this is. If you want a smooth mixture, then pass through a food mill or sieve.
To 2 cups of cream, I added the seeds of 6 green cardamom pods and 2 tablespoons of sugar and blended again.
Be careful when you add the sugar. I ruined a batch because I over did it. It's best to add by the tablespoonful.
Set on low heat and cook till mixture begins to bubble. Taste as you go along and adjust sweetness to taste.
When mixture has bubbled :), it might splatter so be careful – remove from heat and stir in finely grated zest and juice of 2 limes.
Take the mixture off the heat and allow cool.
Enjoy on toast. by the spoonful, over ice cream, anyhow you choose.
A few suprises – soursop cooks really well as a jam without loosing much of its characteristic flavour or creaminess. And it works super well with cardamom and limes. The limes really lift the flavour and cut the richness without being bitter.
I love. Love, love, love it when life imitates art. Thank you Chikodili.
[wpurp-searchable-recipe]From Art to Life: Soursop Jam – – – [/wpurp-searchable-recipe]