One thing always leads to another.
Small chops from 12 Baskets at a party leads to this – chewy pancakes, the texture of mochi filled with sweet coconut and served with a mix of fruit and sauces.
This plate is all about the elements:
Pancakes made with Kuka, a mucilaginous powder which is green and earthy. A bit like matcha, it adds a grassy flavour to the pancake which is stuffed with a cooked coconut filling.
Essentially, I cooked down grated coconut in a sugar syrup spiced with freshly ground black peppercorns, the seeds of green cardamom pods and some grated ginger.
When both pancake and filling cooled down, I stuffed the pancakes with the coconut filling and attempted a roll. I partly succeeded.
To balance the sweetness of the stuffed pancake, I served up a condiment normally reserved for savoury dishes – Zobo pepper sauce. I was in church when I got the revelation to use zobo pepper sauce. Remember what I said about it having a bit of heat to cut the sweetness? The zobo pepper sauce did that so beautifully.
Needing crunch, I added peanut brittle and because mangoes are in season, I served up some mango lime cream & chunks. I tried to pull some caramel shards and those went on, besides the mango chunks. And to finish? Waterleaf flowers.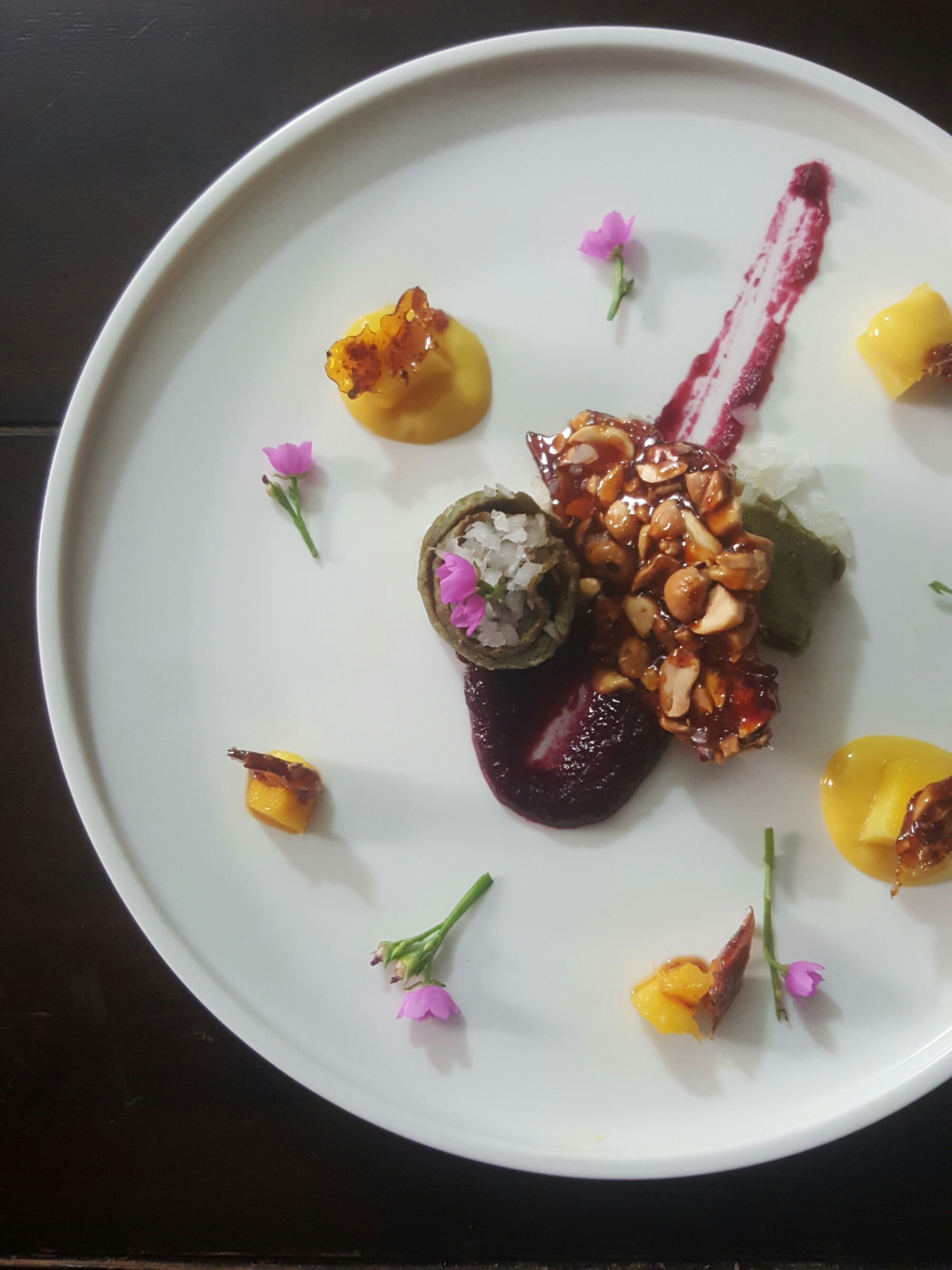 It was pretty damn good too. even though my pancake wasn't as gorgeous as @12basketsfoodsltd, I loved it.
So I'm thinking this might be the belle of the Shrove Tuesday ball. Whaddya think?
Shrove Tuesday (known in some countries as Pancake Tuesday) is a day in February or March preceding Ash Wednesday (the first day of Lent), which is celebrated in some countries by consuming pancakes. In others, especially those (including Louisiana) where it is called Mardi Gras or some translation thereof, this is a carnival day, and also the last day of "fat eating" or "gorging" before the fasting period of Lent.

This moveable festival is determined by Easter. The expression "Shrove Tuesday" comes from the word shrive, meaning "absolve".[1]Shrove Tuesday is observed by many Christians, including Anglicans, Lutherans, Methodists and Roman Catholics,[2] who "make a special point of self-examination, of considering what wrongs they need to repent, and what amendments of life or areas of spiritual growth they especially need to ask God's help in dealing with."; Source
The end. I'm going to try the pancake again, perhaps with Matcha this time. Altogether love it for a first attempt at recreating a 'stunning small chop turned dessert'.
Are you having pancakes today? What sort? Send me some 🙂
[wpurp-searchable-recipe]Shrove Tuesday with Kuka Pancakes & Coconut Filling – – – [/wpurp-searchable-recipe]