Zobo flowers, hibiscus sabdariffa have sooooooo many uses beyond making infusions (hot or cold). Here are a few things I do with mine, dried and once I've made my infusions.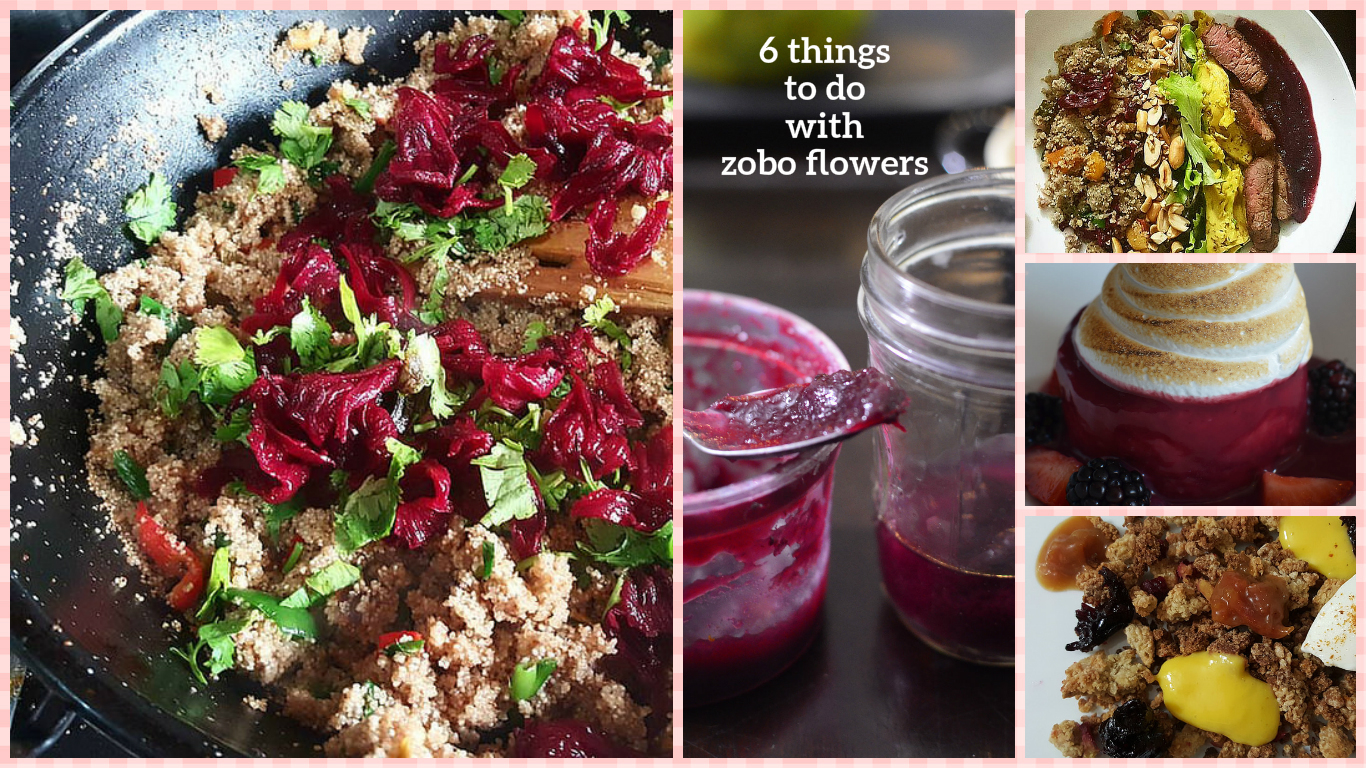 1. Add to salads, cookie dough, crumbles, frozen desserts and other bakes
This works best with the softened leaves obtained after the infusion. I basically tear mine apart and add, like vegetables to grain salads, ice cream mix, mixes headed to the oven
2. Candy. Crystallise
Flowers left over from making infusions can be cooked down in simple syrup (1 part sugar cooked in 1 part water till syruppy). The resulting flowers are meaty and sweet and can be served as part of dessert or topping cakes and more.
Go further, after the steep in sugar syrup, remove, roll in granulated sugar and spread on a rack till dry and 'crystallised' (This 2nd step, I need to try with zobo flowers!)
3. Blend & make a sauce or sauces
Here, you can go sweet or savoury. Want to know how? Look no further, I got you covered.
Some ideas
stay sweet – blending with sugar, dates or other sweeteners (add purees to bakes, cooking projects, drinks)
go savoury by blending with chilies, ginger and a touch of sweetener for a floral, berry like 'cranberry sauce'…
Both sweet and savoury sauces can be used a myriad of ways from spreads to cocktails.
4. Make Finishing Salt
Mill/ process cleaned (by washing), dried zobo flowers with dried ginger and sea salt, like other finishing salts. Use to garnish plates, top food, etc
5. Make Flavoured Sugar
Mill/ process cleaned (by washing) dried zobo with spices of your choice – take a cue from these gorgeous sugars…Add some spices if you like –
6. Blend with drinks and smoothies
*Be careful if you have low blood pressure or gout, apparently zobo worsens both conditions*