There isn't a single one of my recipes that's without a story. Not one that isn't 'birthed'. I can trace the outlines, map the turns and corners, the junctions en route to bringing pumpkin to stew, scent leaves to curry. I can tell you the triggers, the memories, the hopes, dreams, plans.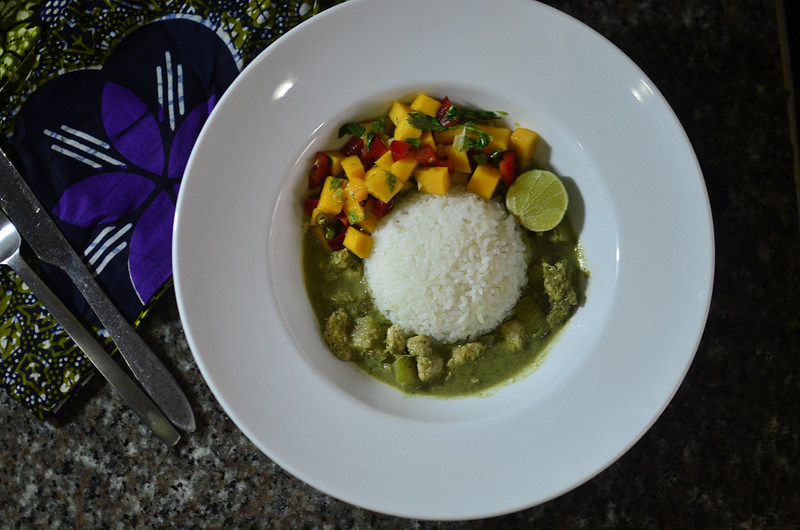 Take my Pumpkin Goat Curry for instance – it was birthed in a quiet market place bathed by the evening sun.
I saw a pile of orange misshapen gourds and I purchased, yes purchased 8 of them.
I wasn't sure what I wanted to make but roasting them was sure.
One Sunday, between sleep and Monday morning, I halved 7 pumpkins, scooped out seeds and set them, bottoms up in the oven to roast.
When they were ready, I scpoped out the flesh from soft skins and packed into portions which went into the deep freezer.
I had all these ideas I wanted to try out with roasted pumpkin and stews were amongst them. I imagined the warmth the pumpkins would bring, I thought of autumn, of fall and decided to make a stew. A goat meat one because the last time I made one in my cast iron pot, it was delicious.
And so, my Pumpkin Goatmeat Curry was Birthed. And devoured.
Ideas. Creative juices. They flow, like rivers and streams, of their own volition, of their own accord. Your job as the writer, the cook is to take notes when they lead, when you find the right spot to dam, to harvest, harness.
It isn't ever a frivolous thing, one to be treated so flippantly.
Long story but ideas come from a place. Ideas have a birthplace. That should be revered and respected.
Wondering why I'm going on about this? Because of plagiarism.
[wpurp-searchable-recipe]The Birth of an Idea, of a Recipe – – – [/wpurp-searchable-recipe]