I love travelling yet there are many aspects that I would gladly do without – the entire visa application process (I just emerged from a traumatic experience) which is tedious and can go awry, packing, traffic to the airport, checking in…almost everything up to the minute I sit in my (often economy) seat. All's well till we fly high and hit turbulence and then my mouth gushes with prayer, my heart pounds with fear.
One of the few things I enjoy is in-flight entertainment. It is often my chance to catch up on new series – Downtown Abbey a case in point, see new movies and watch exciting documentaries.
In the last year, I've travelled with Air France, Ethiad and most recently, Delta. I have to say that my favourite airline is Air France – hands down. Not just for the stopover at Charles De Gaulle which has inspired me over the years with interesting tea combinations…
…and a gorgeous apple tart…
But for their amazing Arts & Culture and Lifestyle showings – part of a rich in-flight entertainment program. There is always a food feature, either in the Delicatessen series or some other.
It's how I learnt about the annual Menton festival – Fête du citron, held in February in the French Riviera. And you know I looooooooove my lemons, whether Eureka or Meyer.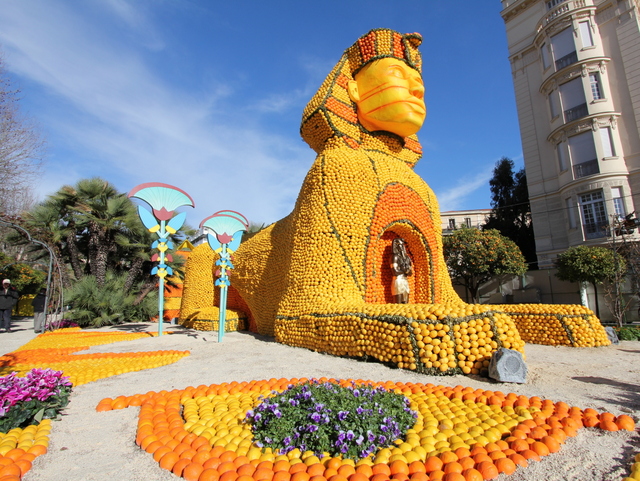 Organised by the Tourist Office towards the end of February, the event has been taken place since 1928. Today, each festival uses 120 tonnes of citrus fruit to decorate its gigantic structures and floats.

The festival has now become the second largest event on the French Riviera, after the Carnival of Nice and before the Formula 1 Grand Prix of Monte Carlo. It is held around the same time as the carnival; French Moments
It's how I know what Moroccan Argan Oil is – 'The world's most expensive vegetable oil'. It's how I understand how intensive the production process is and thus it's expense. It's apparently a wonder in both cooking and beauty treatments. Did you know that the Argan grove of north-west Morocco has been in UNESCO's MAB Biospheres Reserve Directory since 1998 because it "is not only the focus for conservation, but also for research and socio-economic development.
Research topics to improve the knowledge on this tree species are its usage, and its physical and socio-economic environment. Traditional uses of the Argan tree are for example forestry, pastoralism, food, medicine and cosmetics. Growing along the border of Sahara, it also functions as a buffer against desertification. » 1 In rural areas the tree is seen as public property and its leaves as "hanging forage" for goats and camels. Local inhabitants are being educated by UNESCO to not over-use the rare trees for wood and cattle forage, because it hastens the orchard's decline; Argan oil – the new gold?
It has taken me on a tour of salt mines in France, seeing how the delicate Fleur de sel, Flower of the salt is farmed with traditional methods. The grey-tinted salts aren't easily harvested – a knowing is required. Of seasons, of water, of land and more. The result is a 'prime' product that's so French and sought after.
There are so much more I've learnt from Air France…:), I have to say 'Thank you'.
What's the best thing you've seen/ learnt from an in-flight program?[wpurp-searchable-recipe]The Best In-flight Entertainment for Food Lovers – – – [/wpurp-searchable-recipe]