Food52.com has changed my life – for the better.
I've learnt so much…here are a few nuggets of wisdom gleaned – lots of repetition perhaps but consider it reinforcement…
Here are 10 recipes which have given me courage and hope.
1. Chocolate-Dump-It-All-Cake
Lesson: Nothing is impossible.
This cake has awesome converting abilities. Proclaimed chocolate cake haters have caved in, begged, pleaded for me to make this over and over and over again.
This is my go to, a simple recipe that shows nothing is impossible. Bake it, put your own spin on it and watch it captivate mouths and bellies.
2. Stir-fried Cabbage
Lesson: Don't ever give up – the answer is out there, lurking. This restored my confidence in life. And cruciferous veg because cabbage is more than coleslaw. Recipe
3. Cauliflower Soup
Lesson: There's always a way. Cf 2. Cabbage.
This has restored my hope in life – making my daughter, my picky daughter fall in love with cauliflower. Any parent with picky children knows what this means.
4. Chocolate Mousse
Lesson: There's an easy version of almost every thing.
Someday, your confidence will soar. This made me a star at making chocolate mousse and all other sorts of mousse and layered cakes.
5. Lemon Posset
Lesson: Food science rocks – understanding the details of acids and emulsifies is just good-for-the-soul stuff!
So yes, I channeled my inner food geek and loved every minute of it.
6. Celery cocktail
Lesson – You must think of an ingredient as an ingredient, not confined by the boundaries of how you've always seen it and known it 'used'. I hate celery. With a passion but I love celeriac, it's knobbly root btw. @food52 makes me think about ingredients as ingredients, not confined to place or dish. The focus isn't on wack but understanding enough to venture into terra nouveau. Recipe
7. Sriracha
Lesson: almost everything can be made at home. Cf. with my homemade salsa from 1999. Even the seemingly hard stuff, like Ketchup, Barbecue sauce, a beautiful mustard sauce and Sriracha, two ways. Recipe
8. Tres Leches
Lesson: Sometimes you have to forget everything you think you know, everything you've learned and trust in another. No matter how gross you think having cake soaked in 3 milks is, try this. You will be amazed.This is about moist not soggy cake, and flavour to rival. the bests Recipe
9. Cold-brewed coffee. Magical coffee
Lesson: Sometimes its not the what but the how. That turns bitter mellow.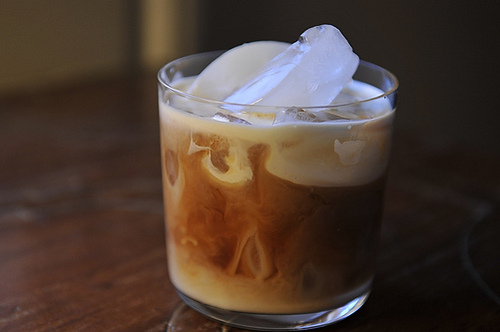 10. Boston Cream Pie
Lesson: You can do it. Surpass yourself. And make a stunning, French-bakery-window-worthy layered cake.
And with considerable ease. Who'd have thought it?
[wpurp-searchable-recipe]On Finding Wisdom: 10 Lessons from @Food52 Recipes – – – [/wpurp-searchable-recipe]