…and tips on how to make the best burger. I mean how can you go wrong with minced beef, suya spice, vegetables and Fried Yam on the side.

So now you know how to make shape a patty and store it, here's how to cook it.
And serve it of course.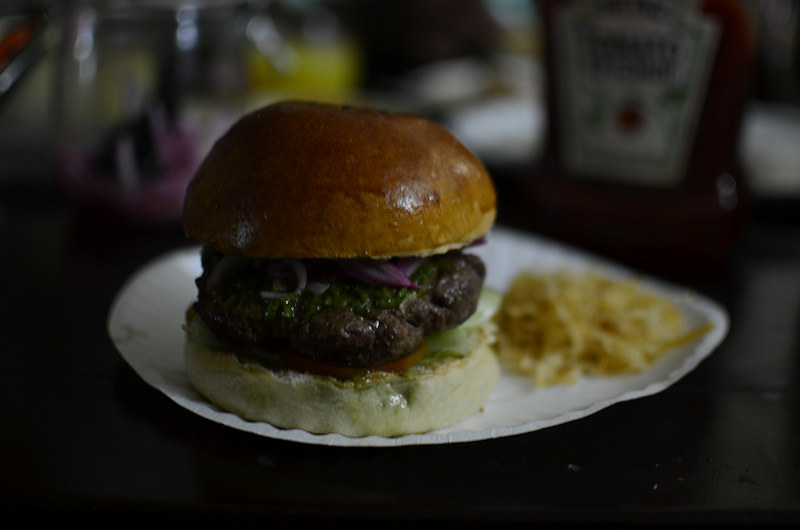 Nigerian Suya-spiced Burgers
2015-03-06 04:42:16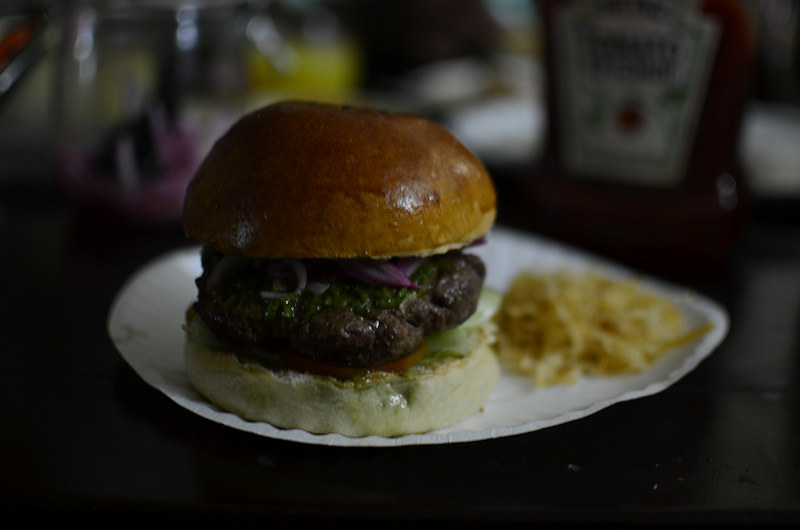 Serves 6
Nutrition Facts
Amount Per Serving
* Percent Daily Values are based on a 2,000 calorie diet. Your Daily Values may be higher or lower depending on your calorie needs.
Ingredients
600g minced beef
6 tablespoons suya spice
1/2 teaspoon salt
Oil, for the pan
Burger buns, toasted
Vegetables to serve: Lettuce, tomato slices, pickled/ fresh onions, cilantro/coriander leaves
Condiments: Scent leaf sauce, Ketchup, Barbecue sauce, etc
Instructions
In a bowl, put minced beef with spices - suya and salt
Using a knife, combine ingredients till spice is incorporated into the meat
Set up a scale, lined with greaseproof paper or a small plate
Shape balls and weigh
Gently flatten into patty - mine ended up about 4 inches in diameter.
Using your thumb, make a small depression in the centre of each patty - this prevents the patties from shrinking and curling up on themselves during cooking.
Set in the fridge/ freezer to chill for at least 10 minutes
When you're ready to cook - do as you will. I made these in a grill pan on the stovetop
Heat up a grill pan, for a minute or two. Once hot, brush with oil
Place patties in pan to cook. For well done patties, each side cooks for 2 - 3 minutes
To get grill marks, rotate at a quarter of a turn at 2 minutes cooking time. Leave for another minute
Flip when you notice the edge is cooked
Allow cook for 2 - 3 minutes
Remove from the pan onto a warm plate and let rest for 2 - 3 minutes
Serve with buns and the sides
Notes
Don't over-handle the meat while forming and shaping
Avoid pressing down or poking burger to keep juices in
Kitchen Butterfly https://www.kitchenbutterfly.com/
To serve, we had
Buns – some toasted, some not
Pickled onions, Tomatoes, Lettuce
Fried yam. Yes, that's fried yam on the plate
Yaji – suya spice, to sprinkle on top
The children loved it so much, they insisted on taking burgers to school the next day. And I gladly obliged.
What are you favourite burgers? Of Beef, Chicken, Fish? Any must-have sides?[wpurp-searchable-recipe]Nigerian Suya Burger… – – – [/wpurp-searchable-recipe]