On an eternal quest for Nigerian desserts and a love for all things French, this was birthed.
I have always wanted to bake with Agbalumo, and I've succeeded – I've made pancake puffs and leather, and now this.
This isn't the first Tarte Tatin, I've made – I've done a few with pears and ginger, both plain and red wine-poached (gorgeous), and apples but this is the first that leaned towards Naija and its peculiar fruit.
This is an upside-down bake. Fruits in-lay caramel and butter, which gets capped by puff pastry. Then it bakes and is flipped to reveal beautiful, shiny caramelised fruit on crisp, golden pastry.
Well, in an ideal world.
So what if the results aren't what I wanted…, it made for a nice experiment. Some proclaimed 'tasty', like Alex, friend of my daughters.
Others 'Delish'.
I thought it interesting.
You begin with butter and sugar
To which some add crushed cardamom seeds
Agbalumo segments, peeled and left to macerate in orange juice and sugar overnight are gingerly laid down
Because I don't have enough, mangoes fill in the gaps
And a little more caramel magic happens
Amongst the last steps is covering with a round of puff pastry, chilled – to maximise the rise and crisping, and pricked too
Barely half an hour later, gold emerges. In my case, something that resembles a pandowdy, or swamp pie – the crust soaked in sweet juices
The end – a beautiful marriage of Nigerian fruits in season – mangoes & agbalumo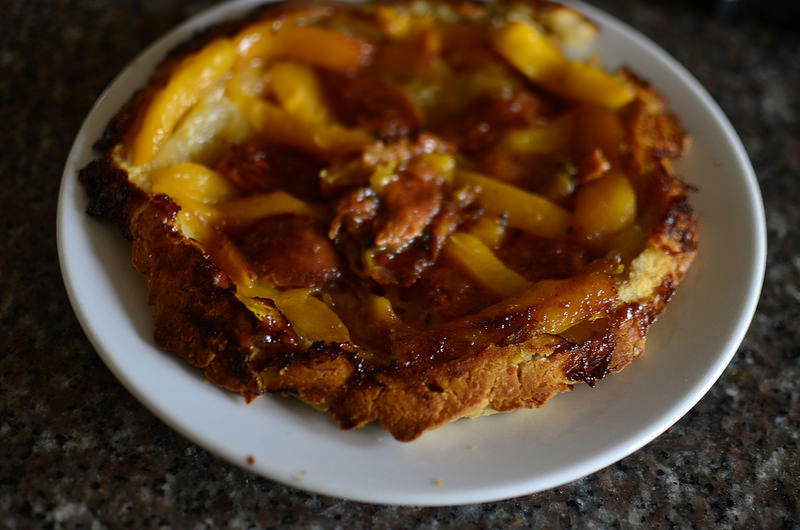 Agbalumo & Mango Tarte Tatin
2015-02-23 13:59:12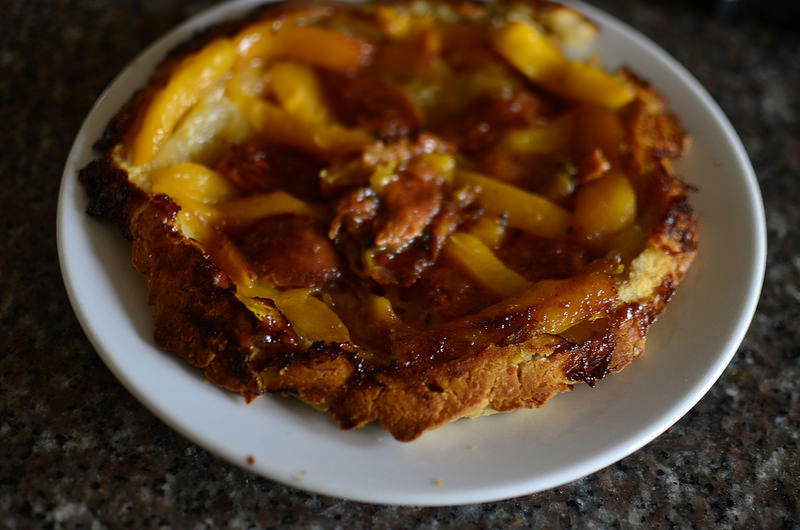 A delicious bake, based on classic French technique, showcasing Nigeria's versatile fruit - Agbalumo, The Nigerian Cherry.
Nutrition Facts
Amount Per Serving
* Percent Daily Values are based on a 2,000 calorie diet. Your Daily Values may be higher or lower depending on your calorie needs.
Ingredients
1 pack puff pastry
All-purpose flour for dusting
2 tablespoons unsalted butter
4 tablespoons caster sugar
Seeds of 6 green cardamom pods, crushed
5 - 10 Agbalumo segments, soaked overnight in orange juice and a sprinkling of sugar
4 mangoes, flesh cut into strips
To serve
Creme fraiche
Yogurt
Vanilla ice cream
Pastry
Roll out the pastry on a lightly floured surface - mine came in a roll on greaseproof paper so I didn't have to do much.
Prick lightly with a fork and chill while you prepare the other ingredients
The Fruit Base
Preheat the oven to 220 degrees C
Spread the butter over the base of a pan and sprinkle with sugar
Place the pan on medium heat and let butter and sugar caramelise a bit
Remove from the heat once the edges begin to brown. Sprinkle the crushed cardamom over the base
Arrange your fruit in as pretty a manner as you can muster. I started with the agbalumo, then filled in with the mangoes
Return to the heat and let cook gently for 3 - 5 minutes till the fruit begins to soften and more caramel forms
Remove from the heat and cap with the cold puff pastry, tucking the ends in so that no pastry hangs over the edge
Bake in the centre of the oven for 20 - 25 minutes or till the crust takes on gold for a hue
Remove from the oven carefully and let 'rest' for 5 - 10 minutes
Using a (warm) plate, turn the bake upside down
I helped mine out
Serve with a dollop of creme fraiche
Notes
It is important to keep the pastry cold otherwise, it becomes difficult to handle and doesn't rise beautifully. Note to self
Gently run a palette knife round the end of the pan if you fear stuck fruit
Kitchen Butterfly https://www.kitchenbutterfly.com/
[wpurp-searchable-recipe]Naija meets France: Agbalumo & Mango Tarte Tatin – – – [/wpurp-searchable-recipe]