Over the holidays, I got so many vinegars to add to my growing collection. I now have bottles of Mango, Lime, Palm, Cane Sugar, Champagne, Sherry and others…so much so I'm beginning to think of setting up a rack.
The mango vinegar inspired me to try a version with Agbalumo.
My thinking is that some of the flavour would be extracted and I could use it in gastriques, vinaigrettes and marinades. We'll see.
This recipe is easy peasy pie.
Essentially, you get some flesh ready.
Combine it with vinegar, and you're good to go.
I say we'll see because it'll take 4 – 6 weeks for the brew to get close to readiness.
But I am patient, and I have ample cupboard space.
I'm quite excited and await the result, with bated breath.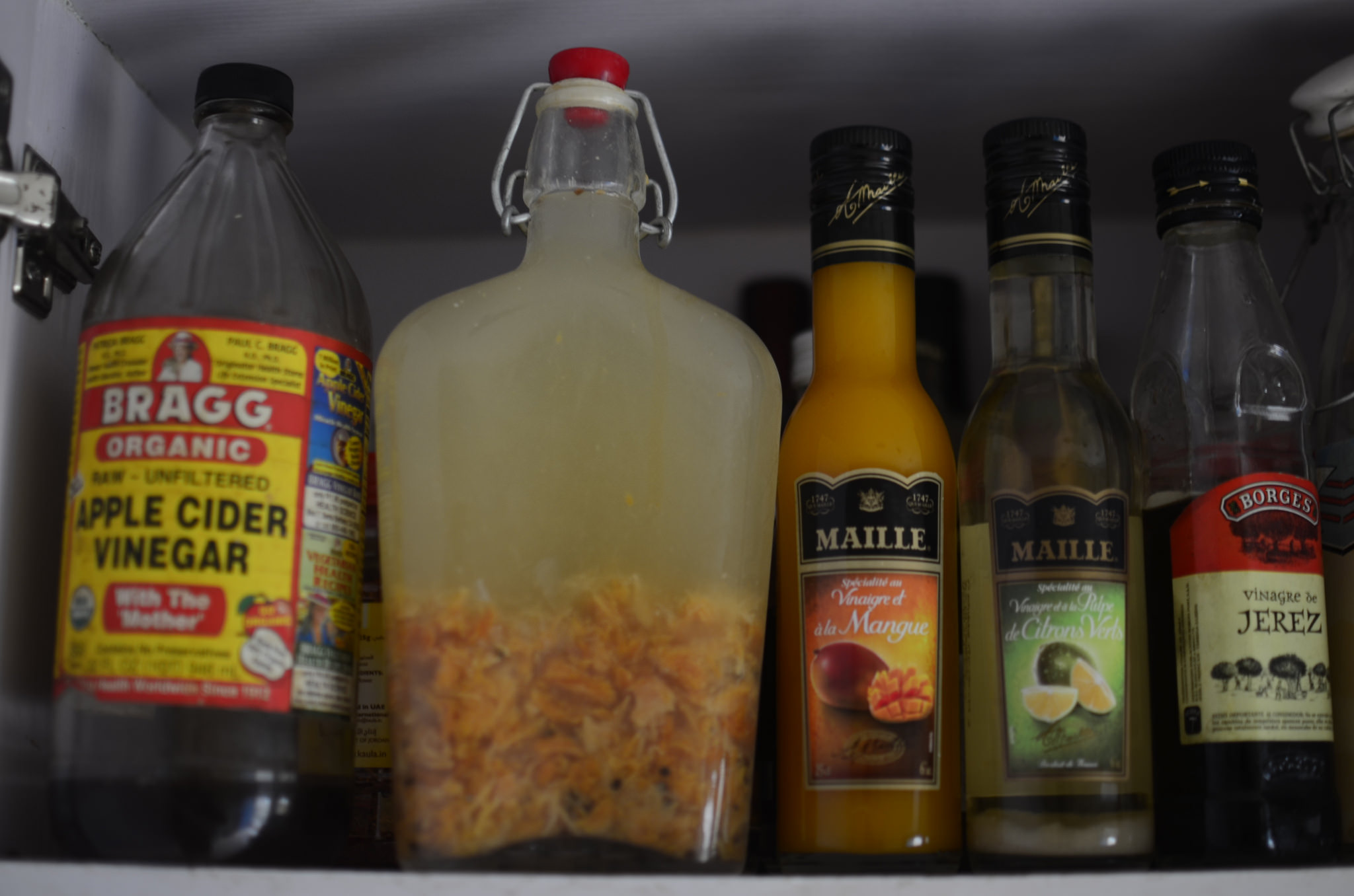 Nigerian Agbalumo Vinegar
2015-02-09 04:32:10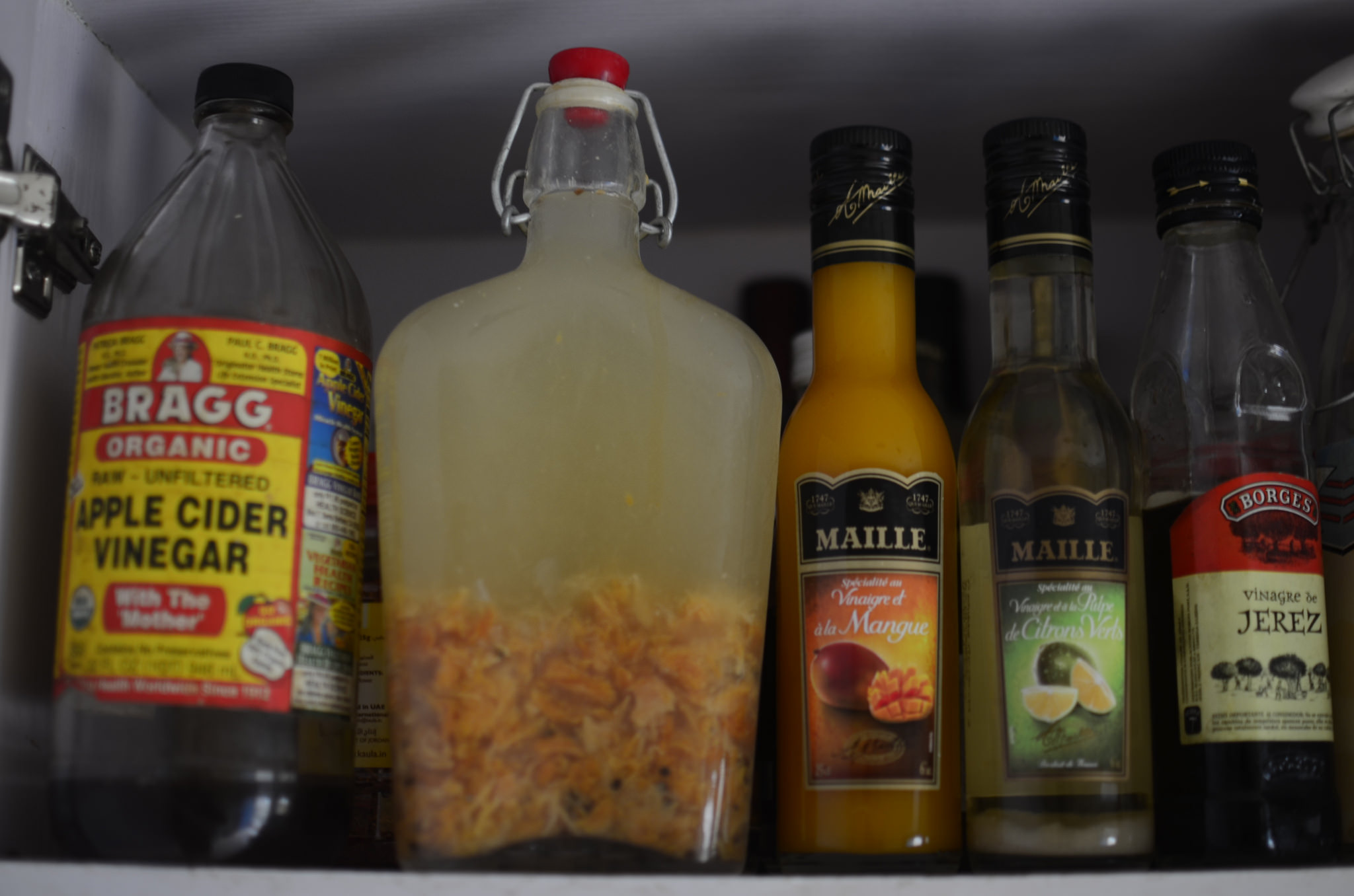 An infused vinegar made with the flesh of the popular Nigeria fruit known variously as Cherry, Agbalumo, Udara
Nutrition Facts
Amount Per Serving
* Percent Daily Values are based on a 2,000 calorie diet. Your Daily Values may be higher or lower depending on your calorie needs.
Ingredients
Flesh of 5 - 6 Agbalumo, skin and seeds saved for another project (coming soon)
1 litre white or apple cider Vinegar
Seeds of 6 green cardamom pods, crushed
Instructions
Wash bottle with hot, soapy water and rinse well.
Fill a large pot half way with cold water and place the bottle in it, ensuring there is sufficient water to cover it by 1 - 2 inches. Bring to a boil and leave for 10 minutes.
Once done, remove from heat but keep bottle in the hot water as you prepare the other elements.
Put the Agbalumo flesh and cardamom pods in the bottle while you heat up the vinegar in a large saucepan till it just simmers (at least 190°F).
Remove the jars from the water bath with a jar lifter or tongs. Using a funnel, carefully pour the vinegar into the bottle, leaving at least 1/4-inch of space between the top of the jar and the vinegar.
Store the jars in a cool, dark place, undisturbed, for 4 to 6 weeks.
The plan afterwards is to strain the vinegar till clear. More on that as and when.
Notes
In Step 3: Keeping the bottle warm minimizes the risk of it breaking due to sudden temperature changes when you fill with the with hot liquid
Kitchen Butterfly https://www.kitchenbutterfly.com/
What do you think? Are you a vinegar fan :)?
[wpurp-searchable-recipe]Nigerian Agbalumo Vinegar, In Progress – – – [/wpurp-searchable-recipe]