Down with a cold? The sort that most people get on the cusp of changing seasons, from harmattan to rainy? Don't just reach for oranges, grab some agbalumo.
Yes, agbalumo.
Rich in ascorbic acid – hence the tartness (thanks Tipu), more so than oranges – this is your rainy season fruit.
The value of ascorbic acid (vitamin C) and α- tocopherol of C. albidum varieties were very high when compared with the recommended dietary allowances (RDA), their values exceeding the RDA of 75 and 90 mg/day of vitamin C for female and male respectively, and 15 mg/day of α-Tocopherol (Roth and Townsend, 2003; Rolfes et al., 2009), high in β-Carotene and relatively high in B-vitamins

Caveat – Its high ascorbic acid content however can be a limitation for its consumption by people with peptic ulcer; Source
The past couple of weeks, so many people have been down with some sort of cold/ flu. Last night, I joined them.
This is also flu season in the US. Data analysed over a couple of decades shows that most cases of flu were reported in February, more than any other month of 'flu season'.
Peak Month of Flu Activity
1982-83 through 2013-14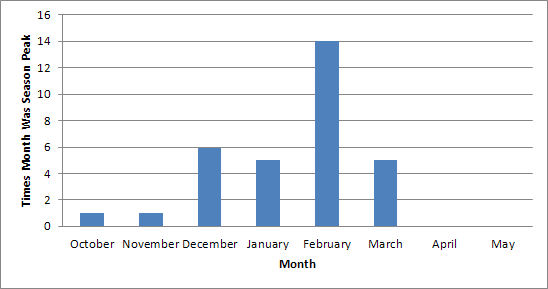 Source: Centers for Disease, Control and Prevention
I wonder what we would find out if we had the required data in Nigeria to do the analyses. I wonder if we would even get a critical mass of data as people tend to 'treat' their colds themselves.
Anyways, I spent the day sipping lemon & ginger tea, and then remembered what I'd read about agbalumo. I hurried along to make some 'tea', using some blended puree, with honey, lemon and water.
And while I'm not a 100%, I'm better 🙂 and more knowledgeable about the nutritional qualities of agbalumo.
C. albidum varieties studied were high in micronutrient content, low in gross energy and antinutrients, hence they can be good snack or fruit for consumption for all. Its low carbohydrate content underscore its low value of simple sugar, hence it can be consumed by diabetic patients.

Its low calorie, sugar, and high vitamin content qualify the fruit as suitable for the obese, while it's very low sodium content qualifies it as good fruit for the hypertensive.

Its high value of INQ makes its consumption as fruit suitable for all. The fruit is also believed to be a good source of antioxidants (β-carotene, ascorbic acid and α-Tocopherol); Source
[wpurp-searchable-recipe]Agbalumo, The New 'Orange' – – – [/wpurp-searchable-recipe]