Yesterday was National Empanada Day.
National Empanada Day I hear you ask?
Yes, April 8th is National Empanada day, celebrated
Because Empanadas, like Macarons are totally worth it.
And thanks to Chef Jose Garces, Iron Chef Extraordinaire and my mentor :), I can wow you with this delicious Plantain empanadas, even a day late :(.
In the days when TV and I were bestos, I consumed copious amounts of Jose Garces, Iron Chef Morimoto, Marc Forgione and Michael Symon.
One of the turning points in my thinking about food was when I watched him make 'pastry' dough from unripe plantains. It's the kind of thing where your head literally explodes in a world of understanding. Like. I could totally do this.
He didn't add any magical ingredient or process it in an extraordinary manner.
This was one guy who made me get a tortilla press, acquired at a thrift store for a euro or less a number of years ago. Truth be told though, you don't need one. I've made it with this, and that, including a glass bottle for rolling pin and cling film as press-proof.
And I can tell you it works. I've made it a few times, a few ways with a lot of learning.
First of all, unripe plantain makes an amazing, gluten-free dough. Ripe plantains do not give the same texture. Trust me oh yea hater of 'green' plantains. Like I used to be.
Second of all, the fact that the plantains are cooked before you even begin means…wait for it, wait for it…you don't have to wait to fry them :), you can eat as it.
Finally, the options for filling are endless.
I've made versions with chicken and pawpaw, fish, beans…many combos work.
Today I share this version stuffed with poached chicken and a pawpaw sauté. Tomorrow, who knows? The one with fried catfish and beans?
Not perfect but beautiful in that wholesome, homemade way.
The end result is a stunner of flavours and textures that these photos do no justice. My sincere apologies.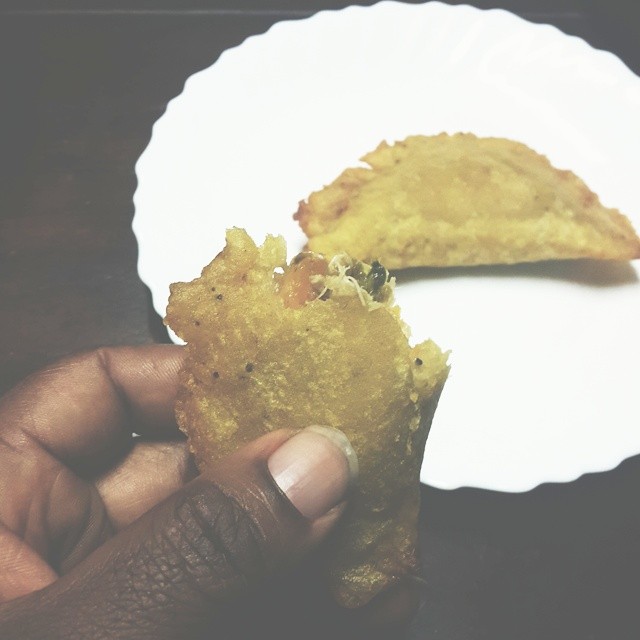 The unripe plantain dough, when fried creates an amazing double-textured crust – thin and crisp on the outside, soft and chewy on the inside.
The filling is rad. Chicken, juicy pawpaw, herby scent leaf sauce? Stunner in the mouth and belly.
Plantain Empanadas with Chicken & Pawpaw
2015-04-09 09:50:19
Delicious Plantain hand pies that fry up beautifully, stuffed with spicy chicken and a juicy pawpaw sautee, these are king
Nutrition Facts
Amount Per Serving
* Percent Daily Values are based on a 2,000 calorie diet. Your Daily Values may be higher or lower depending on your calorie needs.
Dough
2 green plantains
Salt, to taste
Chicken Filling
1 tablespoon extra virgin olive oil
1 cup poached chicken breast, diced
1/2 cup pawpaw saute
Salt and pepper to taste
Vegetable oil, to fry
Scent leaf chili sauce, to serve
To prepare the plantains
Peel them by splitting the skins lengthwise with a sharp knife.
Remove skin and cut each one into 3/4 pieces along the length.
Place in a pan of salted water and cook the plantains until they are soft, about 30 minutes. Remove from the heat and allow the plantains to rest in the water until they are cool to the touch.
Pass the cooked plantains through a ricer into a bowl. Rice the plantains a second time. Knead the resulting dough until it is very smooth, about 5 minutes. Allow the dough to rest at room temperature, covered with a damp towel, for 1 hour before making the empanadas.
To make the filling
Combine the poached chicken and pawpaw saute
Check for seasoning and adjust accordingly
To assemble empanadas
Divide the dough into a dozen 1-inch balls. Using a manual tortilla press, a rolling pin or the heel of your hand, press each dough ball into a circle about 6 inches in diameter.
Place a tablespoon or two of filling in the center of each round and fold over to form a half-moon shape. Use a dinner fork to crimp the outer edge. Alternatively, use a plastic empanada press, available in Asian/ Latin American stores.
To cook the empanadas
Heat the vegetable oil to 350 degrees in a stockpot, using a candy or deep-fry thermometer to monitor the temperature.
Line a baking sheet with parchment paper.
Fry the empanadas in batches until golden brown and crispy, about 3 to 4 minutes each, turning once in the oil.
Drain them on the baking sheet.
Season to taste with salt. Serve with scent leaf chili sauce and fly away baby.
Notes
Links to recipes for poached chicken, pawpaw saute and Scent leaf chili sauce are shared below.
Adapted from Jose Garces
Kitchen Butterfly https://www.kitchenbutterfly.com/
Recipes
Enjoy and happy belated National Empanada Day.[wpurp-searchable-recipe]Plantain Empanadas with Chicken & Pawpaw – – – [/wpurp-searchable-recipe]