I call it a dip but it really is a dip that doubles as a sauce, and triples as pesto and quadr….you know what, first things first.
This dip came about from leftovers and obsessions – coconut in the freezer and an excess of herbs with no working fridge at home.
In essence, its foundation is the 'coriander chutney' my late friend, Renu taught me to make. With very Nigerian ingredients in the mix.
My current obsession is with scent leaves. Last year, I had a plant and that did it for me. I got to experience the textural difference in the young leaves, the flavour in the buds and everything in between.
Ocimum gratissimum, or clove basil is a popular Nigerian herb. It goes by other names locally – Ncho-anwu or Ahuji in Igbo; Efinrin in Yoruba, Aramogbo in Edo, Ntong in Ibibio and Daidoya in Hausa.

In Hawaii, it is known as wild basil
My obsession takes me from pottages of plantain and pepper soups to this dip – green, creamy and scented, with the best of lemongrass, coconut, ginger, garlic and more.
To experience the heady flavours of this dip, you need do no more than chuck the ingredients in a blender or food processor and whizz away.
I use a combination of oil and water, mostly coconut oil or flavourless vegetable oil like Canola.
A few blitzes and that's it really – you have a dip/ sauce/ amazing wonder that's extremely versatile.
And it keeps very well too – both refrigerated and frozen.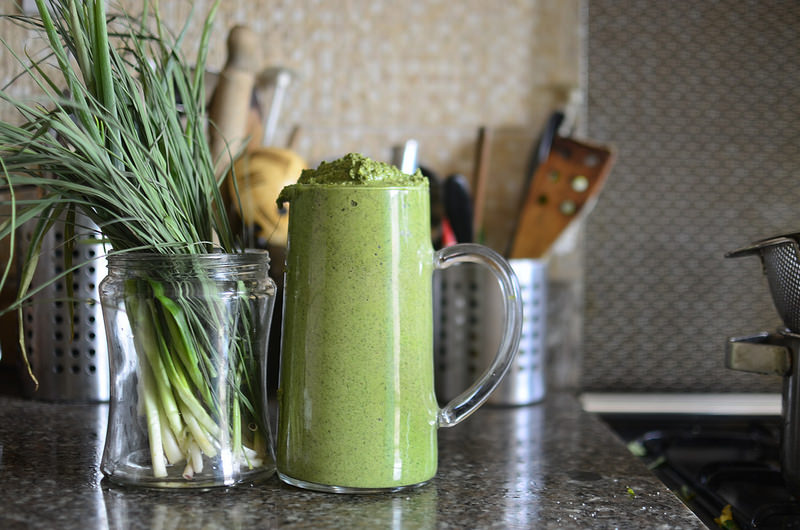 Nigerian Scent Leaf Dip
2015-02-12 12:59:41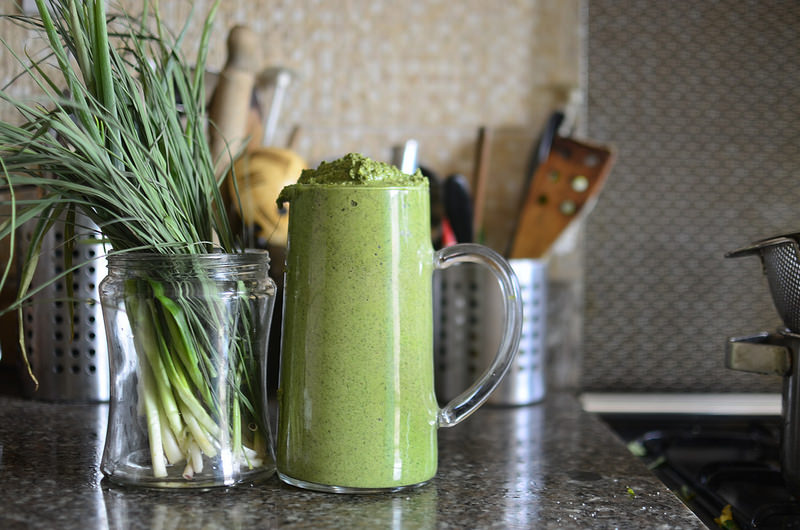 Nutrition Facts
Amount Per Serving
* Percent Daily Values are based on a 2,000 calorie diet. Your Daily Values may be higher or lower depending on your calorie needs.
Ingredients
6 cups fresh scent leaves
2 cups fresh mint leaves
1 cup fresh coriander leaves
1/2 of a fresh coconut, brown back peeled off and pieces cut into chunks
1 bunch spring onions, about 10 stalks - both green & white parts, roughly chopped
5 lemongrass stalks, cut up
Zest and juice of 2 limes
5 one-inch pieces of fresh ginger
5 large cloves of garlic
Green chilli peppers (or red), to taste
1 cup (flavourless) - coconut, canola etc
1 cup water
Sugar, to taste
Salt, to taste
Instructions
You might need to batch process them. In a blender, put in a mix and add some water and oil
Blend till the mix is liquid and the colour even
Stir, checking for large chunks. Then clean down sides and process till smooth
Spoon into portion-size jars or bowls
Refrigerate for up to a week, or freeze for up to three months
To use from frozen, set container in fridge and let thaw for a few hours or overnight
Stir before serving
Notes
If you can't find scent leaves, use shiso leaves/ perilla or a combination of (Thai) basil and cilantro
Ensure all your herbs and vegetables are washed
It's best to ensure the ingredients are chopped up in small pieces - this will aid blending and put less strain on your machine
Kitchen Butterfly https://www.kitchenbutterfly.com/
To use? Enjoy as a dip, make a Nigerian-style green curry sauce, combine with toasted egusi seeds for a pesto, add some yogurt…for salad dressing, use as is in sandwiches…long list really and that's the beauty.
How would you use it?
Would you like to order some? If you're in Lagos, give me a shout-out and I'll see what I can 🙂[wpurp-searchable-recipe]Nigerian Scent Leaf Dip – – – [/wpurp-searchable-recipe]