We finally leave 5th avenue, and Eataly and walk east to Lexington avenue.
Once Niv and I arrive, I walk around in stunned silence. I don't know the definition of superstore, nor can I be bothered to look it up. But assuming words were open to interpretation, and I say they are…. I would call Kalustyan's a SUPERSTORE.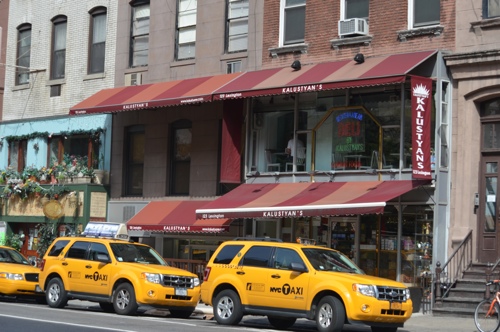 Why, you might ask.
Well this stunning repository of all things Indian and much more, for the area it occupies is jam-packed. If there was a measurement to describe the store's density of goods per square centimetre, it would definitely be in the top quartile- full from floor to ceiling.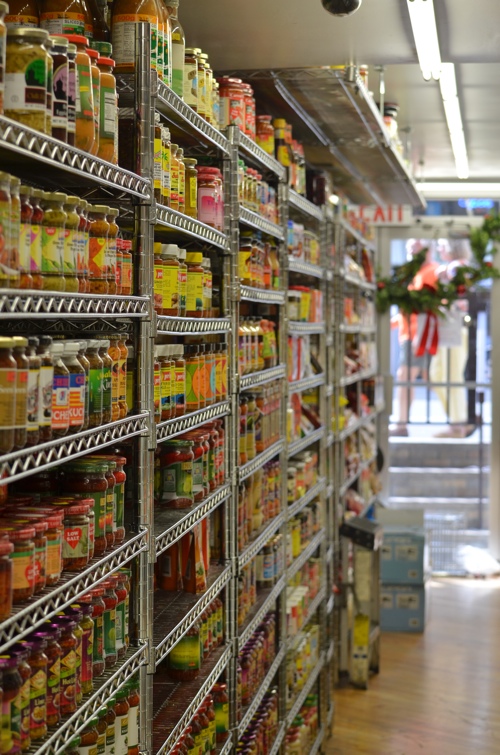 Saying that, it is the most organised ethnic shops I've been in….and spotless. Everything is gorgeously arranged and lined up, jam jars, syrup bottles, spice packs, salts, sugars, they all have their spots. And the fragrance and scents are delicate and pleasing to me, none over-powering or offensive, all making me long for the hidden treasures within.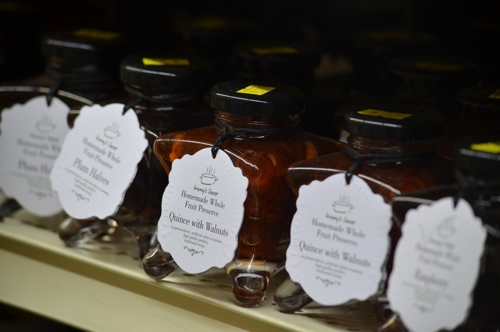 I see Chilli balls which I first saw Reza Mahammad use. Niv educates me 'They are for tempering' – an Indian technique of heating up spice to release oils and aromas before combining them with soups, sauces or grains.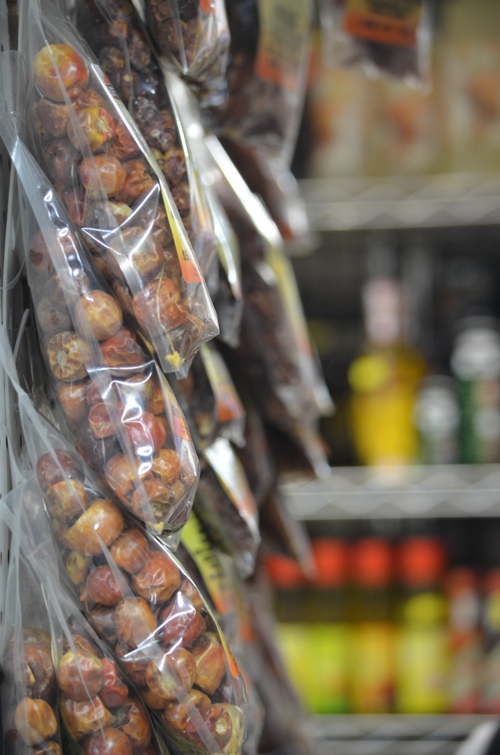 The syrup aisle takes me to Maine and back – blueberry syrup, butter pecan syrup, and yes, regular ole maple syrup.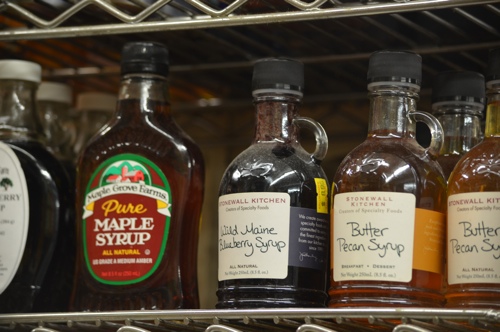 I am thrilled to see the Bonne Maman jars, and happy to say I don't need any. In fact, I am so glad I don't live in the US. If I did, my possessions would spill onto the streets. How do you all, you US residents hold yourselves back from buying up whole stores???? I went into Home Goods today and I almost went mad. Sigh. For once, I thanked God that luggage restrictions made it difficult for me to buy more than the needed, that should read wanted!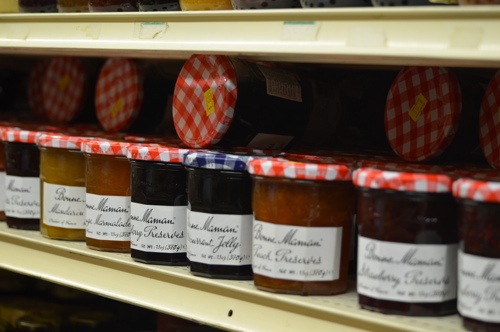 Back to Kalustyan's. I spot Sassafras for making root beer.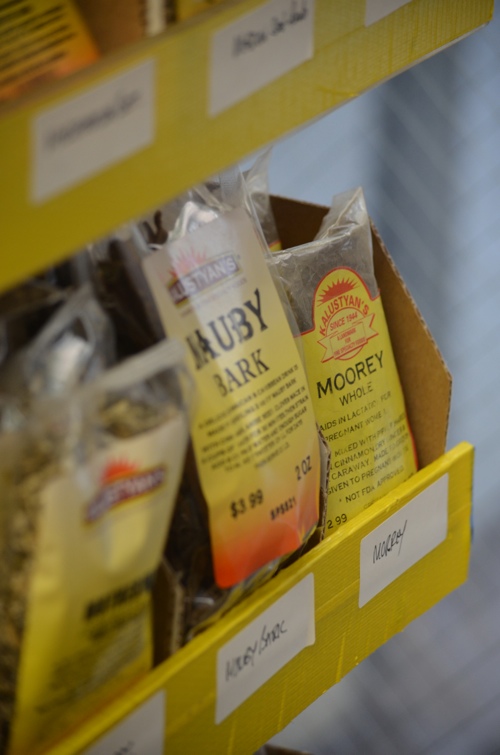 There is a whole aisle of every sugar imaginable – coconut, date, and maple sugar. I heave a huge sigh of relief for my maple sugar search is now over. The pound of sugar I've purchased should tide us through.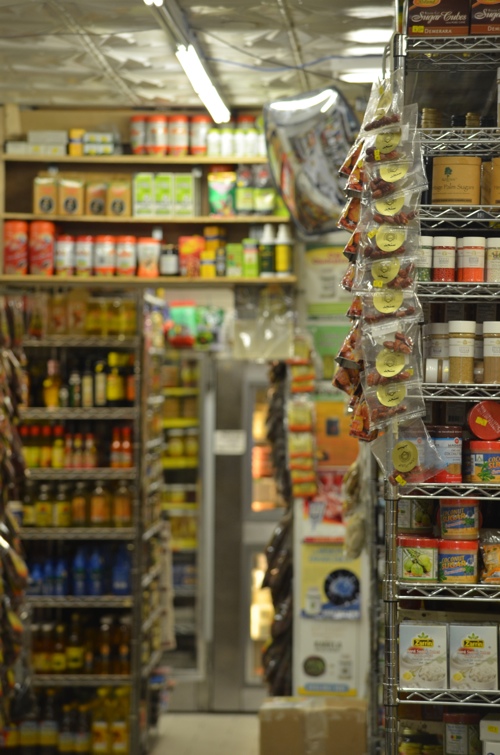 We walk, we coast, we wander up and down aisles, round corners, gasp, smile, sigh, sniff and slowly the baskets fill up. I want to reach out, to touch some books, hold them but I know my lust will lead me down a dangerous path. I behold Claudia Roden's Arabesque and I am woman enough to resist.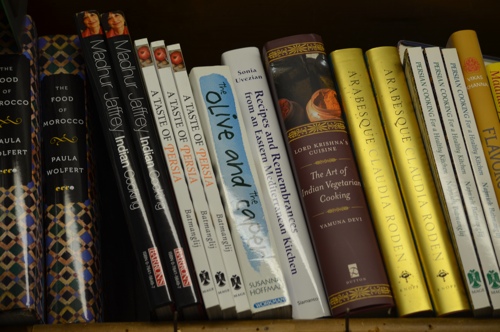 My last purchases include Lemon Verbena leaves which I'm thinking would be great with chicken tenders; Pink Prague salt for some day I will learn the art of Charcuterie; Turkish Apple tea which my children love…..; some dried Persimmon slices which I think would be great, rehydrated and used in a cake and a very cute mortar and pestle which I really, really need!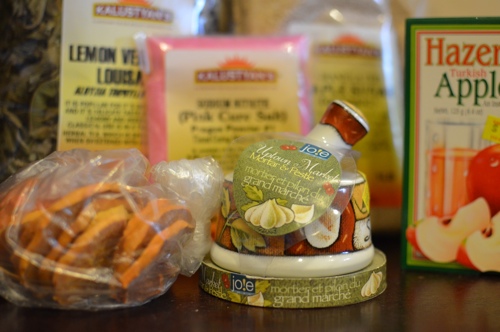 It's time to leave, I grab my receipt, glad for the 10% discount I received for paying cash…some things in the shop are not exactly cheap so I have been extremely selective.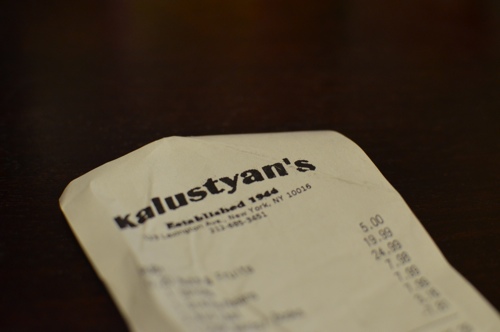 Marvel again at gorgeous cookbooks and gracefully exit the store.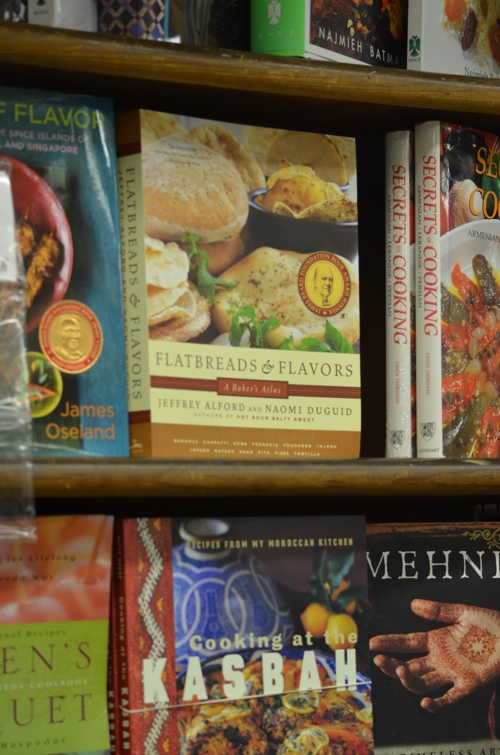 What a wonderful end to a great day.
As Niv said to me 'If you are a foodie and you come to New York, you HAVE to go to Kalustyan's'. I couldn't agree more.
Today's adventure: hopefully, the Ssam bar….of my beloved David Chang, I hope to report back with a multitude of tales. After all, a girl celebrating a three-year blog anniversary, and an upcoming birthday ought to celebrate in style, right? Right.
XXX[wpurp-searchable-recipe]Kalustyan's, New York – – – [/wpurp-searchable-recipe]