I make no bones about my love and admiration for Food52.com. Not only does it function as a wonderful community with great recipes, but the people behind the recipes are totally real people, not virtual/scary strangers!
Once I made up my mind to spend some time in New York, I 'dialled' the hotline, Food52's Q&A seeking friendly New York food52ers…..and this is the result….
A get-together at Eataly, organised by Niv of the Panfusine blog, bringing together five food52 members to feast, talk and expand horizons, culinary and otherwise.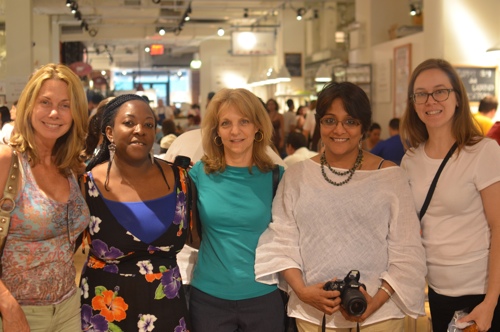 Eataly is a wonderful food emporium, in the heart of Manhattan, focussed on good quality Italian produce. There's absolutely nothing it lacks.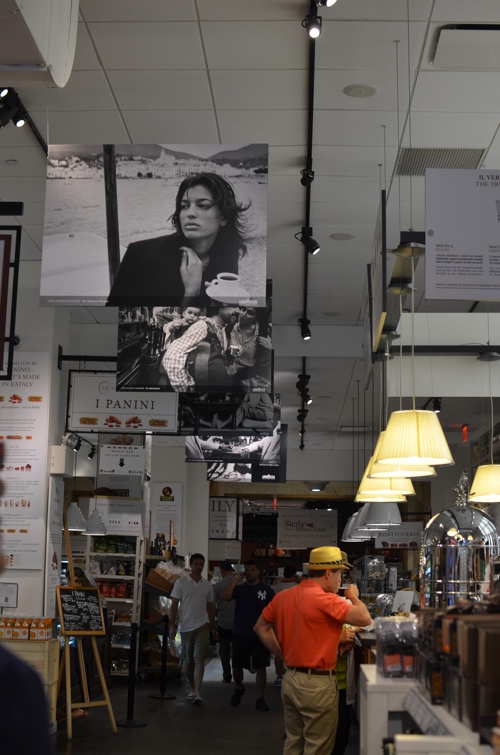 Norma and I spent a good hour wandering up and down the aisles, weaving in and out of different food departments, cheeses, meats, sweets and coffee. This food space is the brainchild of Oscar Farinetti, Mario Batali, Lidia Bastianich, her son Joe Bastianich and the Slow Food movement.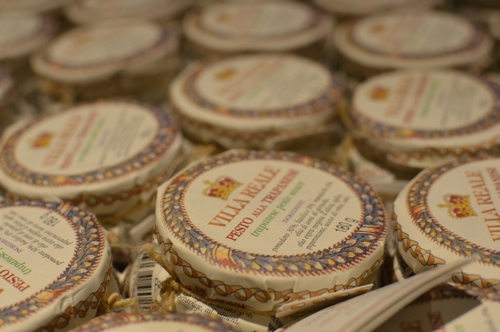 Slow Food runs with the belief that everyone has a fundamental right to pleasure and consequently the responsibility to protect the heritage of food, tradition and culture that make this pleasure possible. The slow food movement is founded upon this concept of eco-gastronomy – recognition of the strong connections between plate and planet.
Eataly epitomises this for me.
Our lunch at Le Verdure , the in-house Vegetarian restaurant is one of the most amazing meals I've ever had….and it was all vegetables and fruit. Funny enough, I can't think of it as a vegetarian meal because this food went far beyond that, it rendered the question of what we were eating unnecessary. We just savoured the delightful flavours of fruit and herbs and well-judged seasoning held together with genuine talk and laughter. I feel blessed…to have experienced a great combination…..in a great place and city, and I have to say a big, big thank you to my fascinating lunch companions.
Lunch began with an amazing waiter talking to us about the appetisers and entrees. When he was done, I sat, mouth agape..totally taken in with him. He described every dish with such passion and skill, and stood just short of telling us the hills upon which the maize for the creamed corn was grown! I was smitten…with his words…ONLY!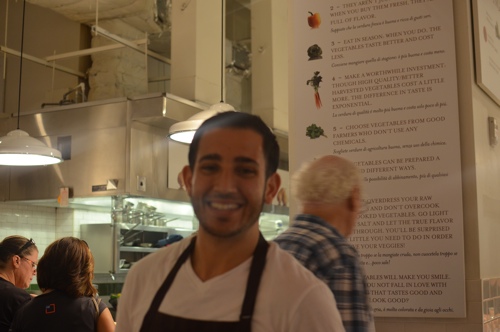 If I hadn't been hungry, I would have ordered a feast…just based on his almost-poetic, very knowledgeable descriptions.
For starters, we begin with a creamed corn bruschetta, flavoured with fresh tarragon and olives. The bread is thin and crisp from toasting and the creamed corn is amazing – fresh and juicy with a sweetness that is enhanced by the slight aniseed flavours of the tarragon and a slight saltiness from the black olives. To die live for!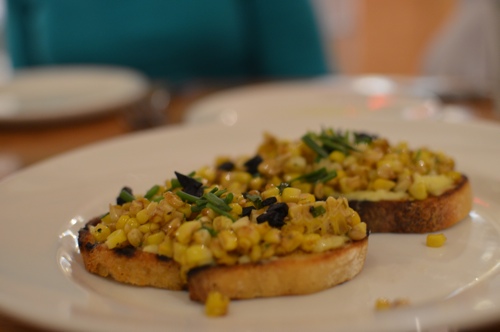 Our second appetiser is fried artichokes with a sour cream and mayo dip. I enjoy it too but the creamed corn shines brighter, is my star….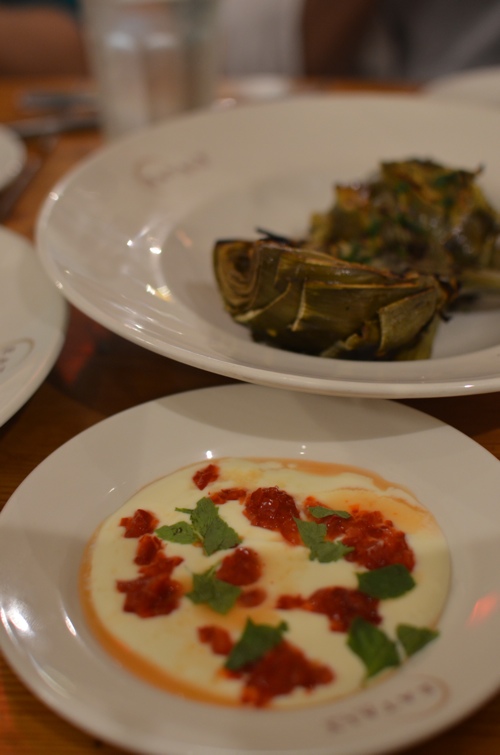 That is till our four, to-share entrees arrive: Verdure all Piastra, warm vegetables served with the antique Italian grain, farro, are wholesomely filling and fresh;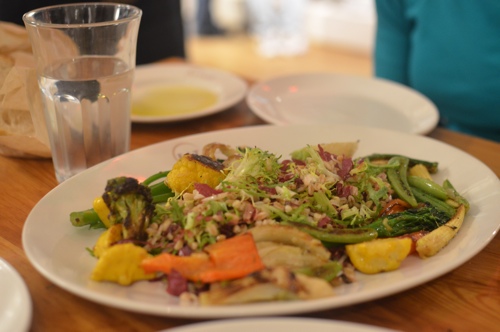 A tossed couscous dish with fresh and roasted vegetables, topped with seasoned watercress;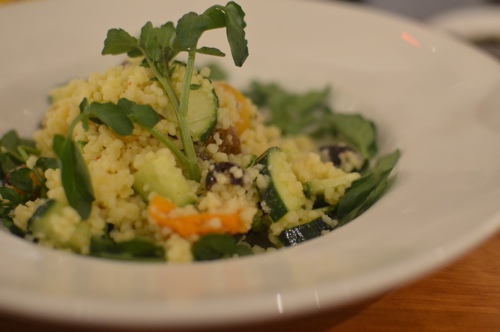 A superb, 'meaty' portobello mushroom dish with grilled peaches and a balsamic reduction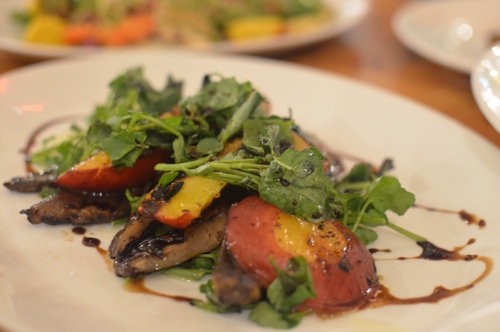 Finally, the absolute stunner of a dish for me is a potato cake that is tossed with two cheeses – Mozzarella and Grana Padano; and flavoured with basil and sun-dried tomatoes…..absolutely heavenly. The potatoes are in chunks, so the resulting cake has texture, yet is soft, the mozzarella is melted so that contrasts nicely with the softness of the potato (I'm a fan of melted cheese), and the seasoning is PERFECTION at it's peak-the right amount of salt from the tomatoes, and a touch of colour….and like we all know and agree, basil is in the right marriage with the aforementioned tomato. The grilled courgette slices go well too but Mr Potato is my man…all the way.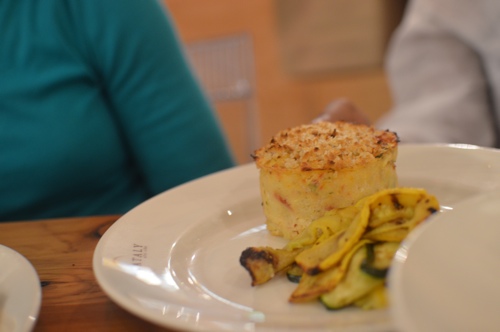 We are sated by the time the platters are only crumbs and grains. We've saved room for the gelati counter, where we gorge on salted caramel, sweet almond milk, and pistachio gelato;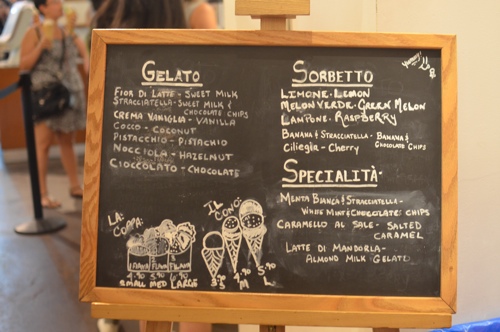 and raspberry sorbet to.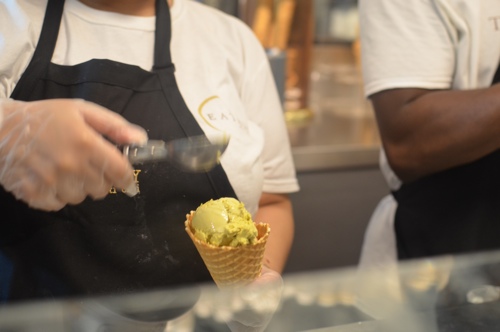 And then we say our goodbyes with smiles and hugs and promises to write and exchange photos.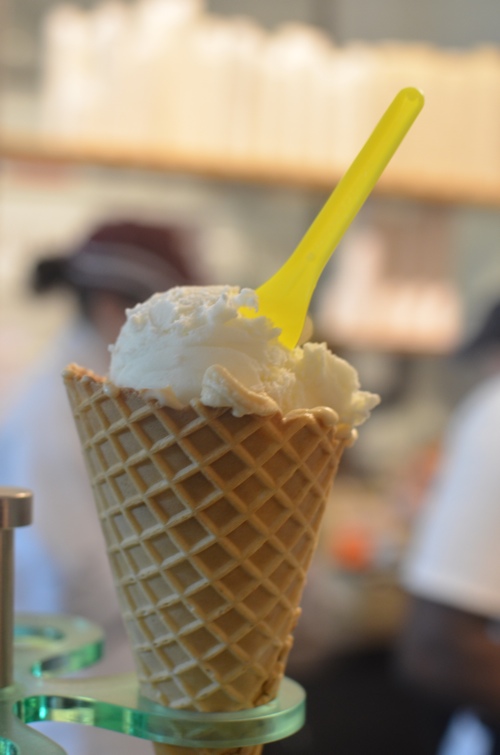 Then it's Niv and I and she decides to take me to 'Little India', specifically one shop called 'Kalustyans', a Mecca for more than just Indian groceries. That's for another day for each event deserves it's own post in history. Bear with me.
To say I enjoyed my day is an understatement…..I appreciate the wonderful women who came in from New Jersey, Long Island and Philadelphia to get to know one another, to share, laugh and form a delicious bond is a gift. One I will treasure for a long time to come.
Thank you XXXXX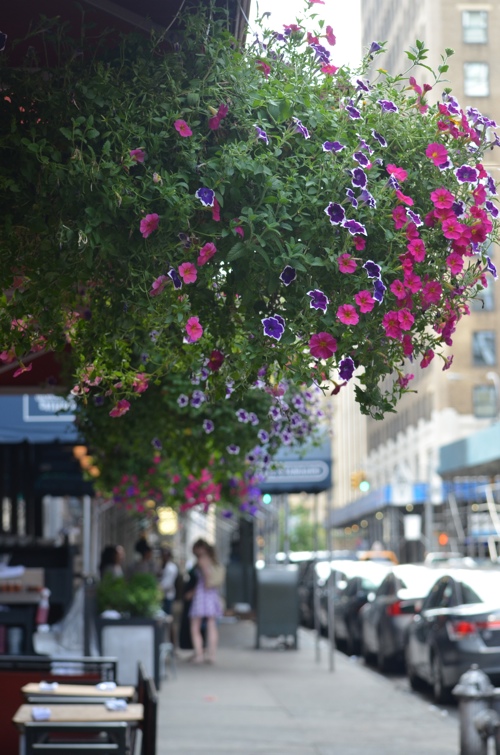 [wpurp-searchable-recipe]Eataly, New York – – – [/wpurp-searchable-recipe]