A few months ago, I came across an ad in newsletter about a TV station looking for expats to talk about their life in the Netherlands while cooking a meal from their homeland. Since I haven't gotten on Masterchef … yet, I figured TV West was my best shot at fame and so I leapt at it much to the initial displeasure of my husband, who generally likes to have his peace.
I was so excited because I've always wondered what cooking on TV/for TV was like. (Not to mention all the TV offers and the book deals to be had……)
I was really happy though because it was a chance to share my experiences in Orange county and give men the world over a flavour for Nigerian food. I promptly made the required phone calls, secured a day for filming and mentally prepared myself. Unfortunately it wasn't enough time to fit into my UK Size 10 clothes, but still I figured it would have to do.
The day before the filming, the director rang me and asked me all the questions he had on his list :
What type of food was I cooking? Jollof rice and Chicken
How long would it take? A couple of hours
What did my kitchen look like ? Open
When it was my turn, I, of course asked about
Make-up? None
If he could make me look slim? No
And how long it would take to make the 'film'? 3-4 hours
Some things you should know
I didn't get paid. I understand how Brad Pitt and Tom Cruise feel. Take after take after take. 'This is perfect but lets do it one more time'. They get paid thought to take and retake. Now I understand why people think they can be prima donna'ish sometimes. Its not an easy job, but boy does it pay well
I look a little/lot fatter than I actually am. True. That's because the camera puts on 10 pounds. In my case, for some strange reason, it put on 10kg.
You'll only see 2 of my 3 kids (our energetic 18 month old son slept throughout the proceedings). Won't say more.
You'll catch the shortest glimpse of my husband Ogbah in his orange shirt (he did say he didn't want to be in it from the start…….)
You'll notice me chewing like a hippo at the end. Forgive me, it was almost 10pm and I was starving. Sorry if you don't like spoilers.
The segment with my cooking starts about a minute into the show – click on the image to watch the video!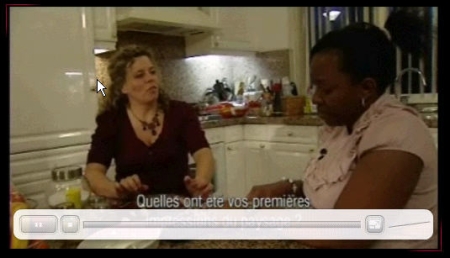 I had such a fantastic experience. It was amazing. The 2 men-1 lady crew were amazing. Warm, friendly, with heart. I would do it again and again and again.
So a few weeks later, I'm in the office, sitting at my desk when a colleague walks up to me and says 'Why didn't you tell me?' To which I replied, 'Tell you what?' And he said, 'That you're a TV star'! It turns out that another colleague had seen me on the TV and shared this with others…at Lunch.
Just one of the recognition discussions I had.
Watch out Hollandwood, here I come. [wpurp-searchable-recipe]TV West Appearance – – – [/wpurp-searchable-recipe]