Something special coming up this Friday, 20th February. Tune in to DSTv Channel 165 at 9pm!
—–00000—–
Today's viewing is an amazing sauce…in the manner of Thai Green Curry but more awesome, even with only half the ingredients. Just put it like this – if you like Thai Green curry, you'll LOVE this. And yes, I'm done shouting. .
It's best served with not just any kind of rice but soft, fragrant Thai Jasmine which has a way of absorbing juices without getting soggy.
This is by far one of the best things I've made. Eaten. Ever.
Take the Scent leaf dip and other goodies.
Cook your proteins in a teeny weeny bit of oil.
Sautee your garden eggs – set aside. Sautee your chicken. Do same.
Then begin the real love affair by frying the paste in a touch of oil. It'll change from vibrant green to an oily, shiny hue.
See, I say love affair because everyone who's tried it, has fallen in love. Beautiful thing about it? No broken hearts. Guaranteed. Don't worry if you can't find scent leaves – you can approximate its greatness with basil and a pinch of ground cloves.
Add your coconut milk. Water. Split chilies. Season.
Simmer. Really? Yes, ready.
Serve with a bright colourful salad/ salsa of pawpaw and herbs.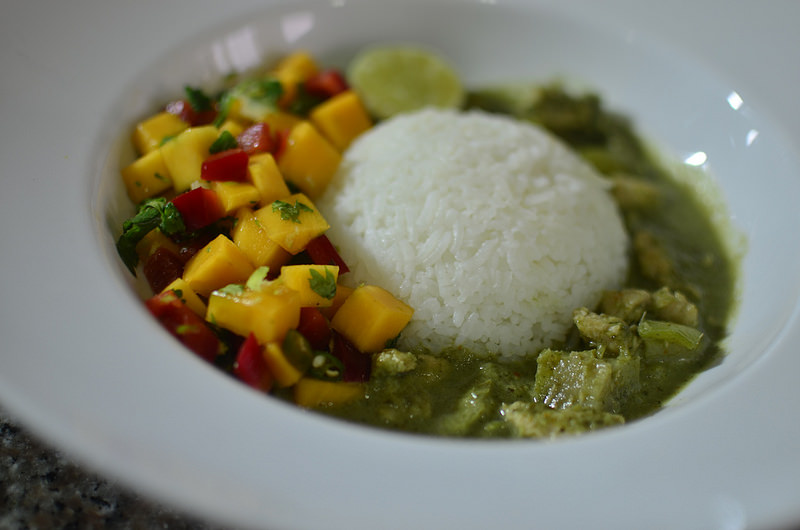 Nigerian Scent Leaf Curry Sauce
2015-02-18 05:03:39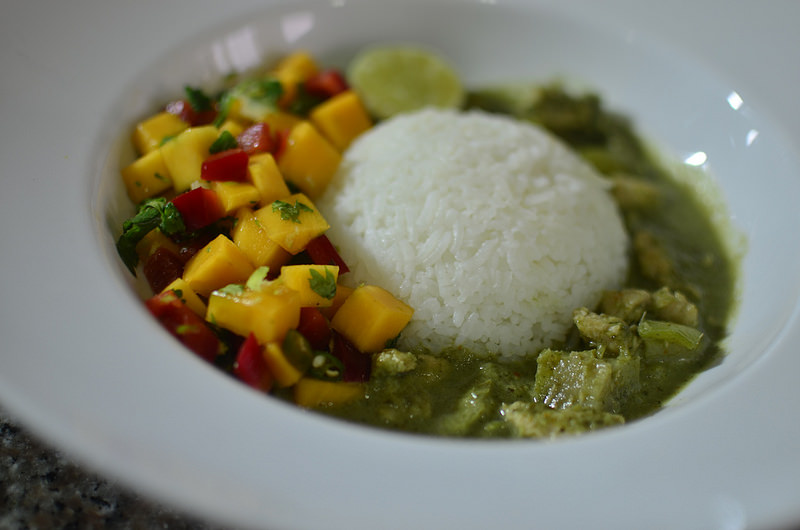 Serves 6
A delicious curry, in the manner of a Thai green curry, rife with sweet and herby flavours.
Nutrition Facts
Amount Per Serving
* Percent Daily Values are based on a 2,000 calorie diet. Your Daily Values may be higher or lower depending on your calorie needs.
Ingredients
3 tablespoons of coconut oil
1 cup fresh chicken breast - 1 small breast
1 cup chopped garden eggs, about 3 - 4 large ones
1 cup green curry paste
1 tin (~400ml) coconut milk
Green chilies, optional
Salt, to taste
Instructions
If using garden eggs, heat up a large pan/wok, add a tablespoon of oil and stir-fry the garden eggs, seasoning lightly with salt. Let cook for 2 - 3 minutes then remove from pan and set aside
Add another tablespoon of oil to the pan and cook the chicken chunks, seasoning lightly again Stir till they turn white, and remove from the pan
Put the third tablespoon of oil and add the scent leaf paste. Cook till fragrant, about 2 - 3 minutes.
Add the coconut milk, and a cup or two of water
Stir and allow cook for 3 - 5 minutes
Add the eggplants and chicken. Leave to simmer for 8 - 10 minutes. Check for seasoning and adjust accordingly
Remove from heat and serve with Thai Jasmine Rice and some Pawpaw salsa.
You won't regret it.
Kitchen Butterfly http://www.kitchenbutterfly.com/
[wpurp-searchable-recipe]Nigerian Scent Leaf 'Curry' Sauce – – – [/wpurp-searchable-recipe]